Mother Tongue and Other Tongues: Narratives in Multilingual Psychotherapy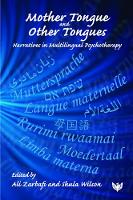 Book Details
Publisher : Phoenix Publishing House
Published : May 2021
Cover : Paperback
Pages : 160
Category :
Forthcoming
Category 2 :
Individual Psychotherapy
Catalogue No : 95468
ISBN 13 : 9781912691852
ISBN 10 : 9781912691
Also by Shula Wilson
Also by Ali Zarbafi
We are living in times where the issue of identity and difference has taken on a more defensive hue. The tide is turning towards an inward-looking nostalgia of sameness based on fear rather than on understanding. The experience of hearing another language, the way it is spoken, and being faced with the image of the other is now more complex, imbued with projections of powerlessness, fear, terrorism, and survival. The issue of identity appears to have become even more complex.
All cultures are concerned with how we speak and communicate as this represents identity, history, and home. Communication is also essential for survival, both emotionally and socially. The speaking person is an individual but also part of a culture or cultures with dense collective and individual shapes. The issue of identity, that feeling of belonging, is essential, full of possibility, and, at times, very uncomfortable, as it touches the tensions between who we are and who we are becoming. This sits next to more complex historical experiences and memories of languages and cultures being changed or lost or banished due to the colonial, imperial, and regional moves of powerful nations in search of conquest and economic gain.
This collection addresses how language affects therapists and their patients, and how it can be understood culturally and therapeutically. Drawn from talks given at the Multi-lingual Psychotherapy Centre (MLPC), the contributors not only bring a therapeutic slant but also their other roles as academics, writers, and artists. These reflections, memories, and stories give a glimpse of the multilingual journey the MLPC has been exploring for over twenty years, and leave much food for thought.
About the Editor(s)
Dr Ali Zarbafi is an Anglo-Iranian Jungian analyst and supervisor and member of the Society of Analytical Psychology with thirty years' clinical experience. He is a founder member of the Multi-lingual Psychotherapy Centre. Ali works in the NHS and private practice. He has written and given talks on trauma, the refugee experience, and social dreaming, and has an academic background in international relations and Middle Eastern studies. He is co-author (with John Clare) of Social Dreaming in the 21st Century: The World We Are Losing.
Shula Wilson has been a practising psychotherapist and supervisor since 1991. She is the founder of SKYLARK (1995–2012) an organisation that offered counselling and psychotherapy for people affected by disability. She is a founder member of the Institute for Psychotherapy and Disability, and a consultant psychotherapist at St Thomas' Hospital and Great Ormond Street Hospital, where she is also a lecturer and supervisor. She is a committee member of Multi-lingual Psychotherapy Centre. Shula is the author of Disability, Counselling and Psychotherapy – Challenges and Opportunities and has written chapters and articles on disability and psychotherapy for various publications.
You may also like