Trauma and Intellectual Disability: Acknowledgement, Identification and Intervention: Acknowledgement, Identification & Intervention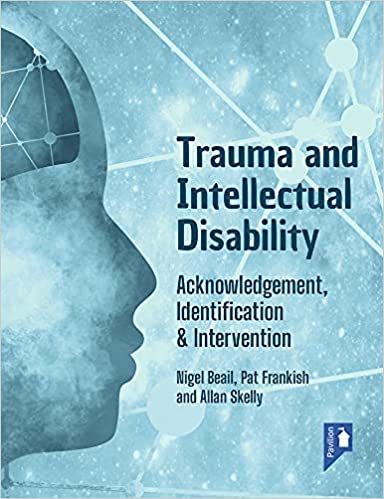 Also by Patricia Frankish
This book is about Trauma-Informed Care (TIC) for people who have intellectual disabilities (ID). The provision of health and social care services is becoming more trauma informed, including in services for people with ID, where the experience of trauma is being increasingly acknowledged.
This book addresses a gap in resources to guide those supporting people with ID by showing how services can work in a trauma informed way. Including contributions from authoritative professionals in the field, and a powerful account of abuse from an expert by experience, the book provides an overview of the history which underpins the importance of trauma and TIC, and the impact of trauma on people who have ID. The second part of the book looks at trauma informed services and a growing and diverse range of therapeutic interventions, including positive behavioural support, intensive interaction, cognitive behavioural psychotherapy, dyadic interpersonal psychotherapy, developmental and psychodynamic approaches.
About the Author(s)
Nigel Beail is a Consultant Clinical Psychologist and Professional Lead for Psychological Services for South West Yorkshire Partnership NHS Foundation Trust, and Professor of Psychology at the Clinical Psychology Unit, Department of Psychology at the University of Sheffield., UK. He is a Fellow of the British Psychological Society, a Trustee of the British Institute for Learning Disabilities, CPD Lead for the British Psychological Society's DCP Faculty for Learning Disability, former President of European Association for Mental Health in Intellectual Disability, and a founder and Fellow of the Institute for Psychotherapy and Disability. He has published extensively on practiced based research from his clinical work.
Pat Frankish is a clinical psychologist and psychotherapist with many years of experience in the field of disability. Her doctoral study established a method for measuring emotional developmental stages in people who had suffered trauma and consequent interference in the developmental process. She is from Lincolnshire and after working in a range of settings and spending six years in North Yorkshire and Teesside, she has settled back in Lincolnshire with her own business in partnership with her daughter. They specialise in providing services for people with complex needs, using the model that Pat has developed. They offer direct support, training, and therapy, either as a package or one component. For those who need it they also provide accommodation. Pat has been President of the British Psychological Society, was a founding member of the Institute of Psychotherapy and Disability, and is an active member of her local Church and community.
More titles by Patricia Frankish
Allan Skelly is the 2019-2021 Chair of the Faculty for People with Intellectual Disabilities (FPID) of the British Psychological Society (BPS) and Consultant Clinical Psychologist with Cumbria, Northumberland, Tyne & Wear NHS Foundation Trust. Allan has published articles promoting a focus on the close personal relationships of people with an intellectual disability, the heightened lifetime risk that these will be broken or strained, and how to address this in clinical work. Allan actively promotes the Trauma-Informed Care agenda and the application of Attachment Theory in doing this. He is the author of published articles promoting psychodynamic approaches to people with an intellectual disability, as well as applying Attachment Theory-based interventions in clinical practice. Allan was chair of the working group which produced the 2017 BPS clinical practice guidelines for the integration of Attachment Theory into the work of clinical psychologists in the UK. As well as reviewing the available clinical tools for formal assessment in several publications, he has collaborated on the design and validation of specific tools for this purpose.
You may also like