Transforming Infant Wellbeing: Research Policy and Practice for the First 1001 Critical Days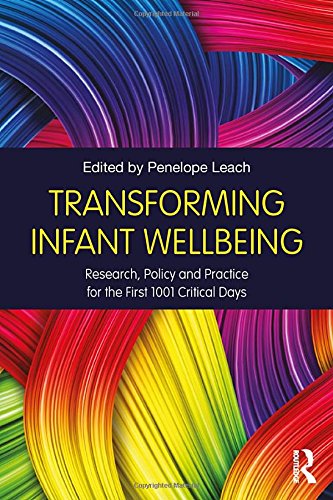 Book Details
Publisher : Routledge
Published : 2017
Cover : Paperback
Pages : 306
Category :
Child and Adolescent Studies
Catalogue No : 93163
ISBN 13 : 9781138689541
ISBN 10 : 9781138689
Also by Penelope Leach
Transforming Infant Wellbeing brings together science and policy to highlight the critical importance of the first 1001 days of infancy: the period from conception to the second birthday. Introduced and edited by Penelope Leach, who uniquely combines academic knowledge of infant development with the ability to write about it for wide audiences, the book has at its heart 25 original articles by acknowledged experts in different aspects of infant health and development. Brought together, they showcase innovative science and best practise to a wide range of readers: to scientific colleagues in different disciplines; to politicians and policy makers; to local authority commissioners and specialist advisors, statutory and voluntary organisations and parents.
This book has a two-fold purpose in science and in social policy. Firstly, to collect new papers by leading scientists in a single volume, which ensures they reach a broad audience. Secondly, by introducing and commenting on the significance of these new findings, the book highlights both the benefits that accrue to society when it acts accordingly, and the costs, financial and social, of our failure to do so. In the last fifty years, interest in infant development and especially maternal and infant mental health has burgeoned. A large number of issues at the forefront of child development research mirror those of yesterday, but the research brought to bear upon them has transformed.
Thanks largely to technological and statistical advances, we now know a great deal that researchers of earlier generations could only surmise. However, increasing knowledge of infancy has not been matched by an increasing impact on parents and professionals, politicians and policy makers. Bringing contemporary studies involving pregnancy, birth, infancy and toddlerhood together, along with the undisputed evidential findings that flow from them, large gaps between what is known and what is done become apparent. By focusing on what can be done to fill those gaps, Transforming Infant Wellbeing renders inescapable the need to re-think current priorities. It represents essential reading for researchers, parents and policy-makers of infancy.
About the Author(s)
Dr Penelope Leach, a favourite source of child development information and childcare advice for parents all over the world, is a research psychologist specialising in child development, and a passionate advocate for children and parents. She is also a mother and grandmother.
You may also like