Timeless Grandiosity and Eroticised Contempt: Technical Challenges Posed by Cases of Narcissism and Perversion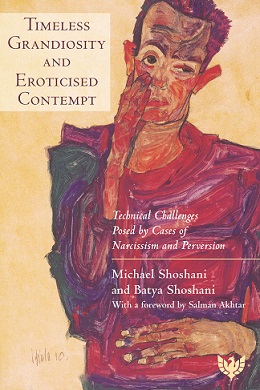 Book Details
Publisher : Karnac Books
Published : April 2021
Cover : Paperback
Pages : 348
Category :
Psychoanalysis
Catalogue No : 95048
ISBN 13 : 9781912691616
ISBN 10 : 9781912691
Also by Michael Shoshani
The challenges and crises that kept resurfacing in Michael and Batya Shoshani's work with extremely difficult patients hunted by anxieties of being, and in particular with perverse psychic organization, motivated them to write this book. It is an attempt to propose a clinical conceptualisation to enhance their understanding of these lost and confused patients, whose narcissistic struggle against human fate defies reality and truth, challenging the analyst and the analytic situation. Analysts, caught between their own perception of reality and truth and the wish to be empathetic to their patients' experiences and views of reality, often feel torn and as if standing on quicksand.
Here, the authors are joining a contemporary movement in the psychoanalytic tradition whilst turning to other disciplines in order to better understand and explain the suffering of their patients. The use of literature, in particular the fictional works of Jorge Luis Borges; film, with an in-depth look at Roman Polanski's Bitter Moon (1992) and Denis Villeneuve's Incendies (2010); and philosophy, the ideas of Heidegger and how they link to those of Freud, coupled together with a solid grasp of psychoanalytic theory, such as reflections on Neville Symington's seminal theory of narcissism, interspersed with real-life case studies bring the chapters alive. Such interplay between the detailed clinical material and conceptual formulations to an interdisciplinary dialogue enables a different outlook that will enrich the ongoing professional discourse on these perplexing and illusive psychic phenomena.
Reviews and Endorsements
Michael and Batya Shoshani explore issues basic for our time, especially but not limited to the present historical moment. Among other things, they rescue the term "perverse" from its narrow sexual meaning and bring out a broader dynamic view linked to destructive narcissism. There is much to learn from and about our perverse psyche or, rather, perverse psychic organisations which play a role in important spectrums of psychic wounding and cruelty, where bad can become good and good can become bad. This book invites us to go deeper with ourselves, see ourselves from many angles, acknowledging difficulties that face us individually and as a human group.
Michael Eigen, PhD, author of The Psychotic Core, Madness and Murder, Contact with the Depths, and The Challenge of Being Human

Drawing upon their first-hand experience and expertise, Michael and Batya Shoshani provide an outstanding example of how psychoanalysis can broaden and deepen the understanding of psychotic states of mind such as pathological narcissism and perversions. The authors have deftly woven together rich clinical descriptions and conceptualisations with ideas, characters, and narratives drawn from literature, philosophy, and cinema. The result is mind-expanding and illuminating. What lifts this book above many is the great courage with which the authors have sought to push through the Gates of Hercules, venturing beyond what is known and deemed analysable. Once again, we see that analysts' minds and their qualities allow previously unthinkable crossings, voyages to new horizons and unfamiliar territories awaiting exploration. The analytical journey stops being a celebration of the known and becomes open to "new vistas on mental life". Luis Borges wrote that the work of all writers modifies our conception of the past, just as it is bound to modify the future. I believe this truly wonderful book will do just that.
Antonino Ferro, MD, member of the SPI, APsaA, and IPA

I find that the approach taken by Michael and Batya Shoshani to destructive narcissism and perversion to be original, both in the sense of drawing on ideas from their birthplace, and in the sense of doing something new with them. They describe clearly the ways they understand and go about the psychoanalytic treatment of patients suffering from illness grounded in these qualities of the psyche–soma, which I find to be of great value. The span of their knowledge of literature and philosophy is used not to demonstrate how much they know, but to demonstrate how much there is to learn as we weave different aspects of the humanities into an intimate conversation with our analytic thinking and practice.
Thomas H. Ogden, MD, author, of Reclaiming Unlived Life: Experiences in Psychoanalysis and Creative Readings: Essays on Seminal Analytic Works

In 1953, Anna Freud was involved in a discussion on "the widening scope of psychoanalysis". She questioned if psychoanalysts should struggle with technical problems which arise during the treatment of a person who is severely disturbed. She stated that it would be a better use of time for psychoanalysts to treat six young people with mild neurosis rather than one severely disturbed person. Many individuals with severely disturbed psychic organisation have continued and will continue to seek psychoanalytic treatment. This book is an in-depth theoretical as well as clinical study of patients who exhibit a narcissistic–perverse psychic organisation, as well as psychotic patients, all of whom are very difficult to reach. Such individuals' exclusion from parental intimacy during their developmental years, intensification of their destructive narcissism, their impaired superegos and ego-ideals, their failure in capacity to think, mourn and love, their exhibiting pathological envy, their utilising deception, their "ontological insecurity", their other common experiences and characteristics and therapeutic responses to them are brilliantly examined and illustrated with clinical examples. The book ends illustrating how perverse narcissistic processes represented in films, literature and philosophical thoughts, expand our theory and praxis. I consider this volume a valuable textbook that psychoanalysts and psychotherapists should keep on their bookshelves.
Vamık D. Volkan, professor emeritus of psychiatry, president emeritus of International Dialogue Initiative, and author of Large-Group Psychology

This volume breaks new ground on conceptualisations of pathological narcissism and its various species of perversion. With rare, rich case illustrations, the authors expose the many supple layers of primitive psychic organisation and tensions among ethics of responsibility in working authentically with profoundly disturbed patients. With our areas of agreement and areas of disagreement regarding Heidegger's thinking, I find the Shoshani's work to be both a challenge and an ally in the journey of understanding Heidegger's ontology and integrating ideas from it into Freudian psychoanalysis. They bravely point the way towards a renewal in existential psychoanalysis that is sophisticated and long overdue.
Professor Jon Mills, PsyD, PhD, ABPP, postgraduate programs in psychoanalysis and psychotherapy, Adelphi University

The book explains and illustrates the importance of multidisciplinary spirit to psychoanalysis by showing how it expands the capability to deal with the dynamic nature of the human psyche; the associations from Borges and the conceptualisations from Heidegger are illuminating. It is undoubtedly a vital shacking to the dogmatic slumber of conservative psychoanalysis which closes itself behind scholastic walls.
Shai Frugel, professor of philosophy, dean of the humanistic and social sciences faculty, Kibbutzim College
Table of Contents

Foreword by Salman Akhtar
Acknowledgments and permissions
About the authors
Introduction

PART I
Narcissistic-perverse constellations – clinical material and conceptualizations

CHAPTER ONE
Psychic survival versus psychic freedom: reflections on Symington's theory of narcissism

CHAPTER TWO
On mother–son twisted coalition: a precursor of perverse psychic organization

CHAPTER THREE
Green eyes, crows and scorpions: envy in the contexts of neediness, separateness, and narcissism

CHAPTER FOUR
Do I dare to be human? The perverse failure to mourn, to think, and to love

CHAPTER FIVE
Fear and shame in an Israeli psychoanalyst and his patient: lessons learned in times of war

CHAPTER SIX
The impact of perverse character pathology on the transference–countertransference matrix of patient, therapist, and supervisor

PART II
Interdisciplinary dialogues

CHAPTER SEVEN
Bitter Moon: The interplay of life and death instincts

CHAPTER EIGHT
When one plus one equals one: truth and blindness in the oedipal myth and the film Incendies

CHAPTER NINE
Borges in my office: the analysis of a man dwelling outside of time

CHAPTER TEN
Heidegger and Freud – explorations into truth, anxiety, and death

References
Index
About the Author(s)
Michael Shoshani, Psy.D., MBA, a Fullbright scholar, is a senior clinical psychologist and a training and supervising psychoanalyst. He is the founding chair and a faculty member of The Tel Aviv Institute of Contemporary Psychoanalysis. He is a faculty member and supervisor at the New York University Postdoc Program for Psychoanalysis and Psychotherapy, and an active member of the American Psychoanalytic Association (APsaA) and the International Psychoanalytical Association (IPA). For three decades, he has treated patients, taught students, and supervised clinicians. He has lectured for many years at Tel Aviv University and Bar Illan University, in the postgraduate programs of psychoanalytic psychotherapy, and has run workshops for many groups of professionals in Israel, the USA, Turkey, and Romania. His main interest is the clinical theories relating to the therapy and analysis of narcissistic and perverse character pathology, as well as in interdisciplinary studies in psychoanalysis, weaving clinical knowledge with philosophy, literature, and art. He is the author of the book Dare to be Human? A Psychoanalytic Journey, and has published numerous articles on these subjects.
More titles by Michael Shoshani
Batya Shoshani, PhD, a Fullbright scholar, is a training and supervising psychoanalyst and a professor of clinical social work at the Hebrew University of Jerusalem (retired), with vast experience in teaching and supervision in social work, psychotherapy, and psychoanalysis. She is a founding member and the chair of the training committee at The Tel Aviv Institute for Contemporary Psychoanalysis. She has been a senior consultant for public services dealing with children, adolescents, battered women, and delinquent youth. She is interested in interdisciplinary studies in psychoanalysis, weaving clinical knowledge with philosophy, literature, and art. In addition, Batya has shown great interest in the particular theory and technique of perversions alongside Michael Shoshani, Psy.D., and has written numerous articles regarding these subjects.
You may also like