Timeless Grandiosity and Eroticised Contempt: Technical Challenges Posed by Cases of Narcissism and Perversion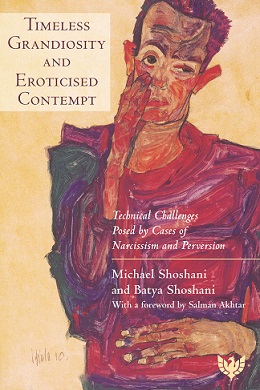 Book Details
Publisher : Phoenix Publishing House
Published : 2021
Cover : Paperback
Pages : 348
Category :
Psychoanalysis
Catalogue No : 95048
ISBN 13 : 9781912691616
ISBN 10 : 9781912691
Reviews and Endorsements
Michael and Batya Shoshani explore issues basic for our time, especially but not limited to the present historical moment. Among other things, they rescue the term "perverse" from its narrow sexual meaning and bring out a broader dynamic view linked to destructive narcissism. There is much to learn from and about our perverse psyche or, rather, perverse psychic organisations which play a role in important spectrums of psychic wounding and cruelty, where bad can become good and good can become bad. This book invites us to go deeper with ourselves, see ourselves from many angles, acknowledging difficulties that face us individually and as a human group. - Michael Eigen, PhD, author of The Psychotic Core, Madness and Murder, Contact with the Depths, and The Challenge of Being Human.

Drawing upon their first-hand experience and expertise, Michael and Batya Shoshani provide an outstanding example of how psychoanalysis can broaden and deepen the understanding of psychotic states of mind such as pathological narcissism and perversions. The authors have deftly woven together rich clinical descriptions and conceptualisations with ideas, characters, and narratives drawn from literature, philosophy, and cinema. The result is mind-expanding and illuminating. What lifts this book above many is the great courage with which the authors have sought to push through the Gates of Hercules, venturing beyond what is known and deemed analysable. Once again, we see that analysts' minds and their qualities allow previously unthinkable crossings, voyages to new horizons and unfamiliar territories awaiting exploration. The analytical journey stops being a celebration of the known and becomes open to "new vistas on mental life". Luis Borges wrote that the work of all writers modifies our conception of the past, just as it is bound to modify the future. I believe this truly wonderful book will do just that. - Antonino Ferro, MD, member of the SPI, APsaA, and IPA.

I find that the approach taken by Michael and Batya Shoshani to destructive narcissism and perversion to be original, both in the sense of drawing on ideas from their birthplace, and in the sense of doing something new with them. They describe clearly the ways they understand and go about the psychoanalytic treatment of patients suffering from illness grounded in these qualities of the psyche–soma, which I find to be of great value. The span of their knowledge of literature and philosophy is used not to demonstrate how much they know, but to demonstrate how much there is to learn as we weave different aspects of the humanities into an intimate conversation with our analytic thinking and practice. - Thomas H. Ogden, MD, author, of Reclaiming Unlived Life: Experiences in Psychoanalysis and Creative Readings: Essays on Seminal Analytic Works.

In 1953, Anna Freud was involved in a discussion on "the widening scope of psychoanalysis". She questioned if psychoanalysts should struggle with technical problems which arise during the treatment of a person who is severely disturbed. She stated that it would be a better use of time for psychoanalysts to treat six young people with mild neurosis rather than one severely disturbed person. Many individuals with severely disturbed psychic organisation have continued and will continue to seek psychoanalytic treatment. This book is an in-depth theoretical as well as clinical study of patients who exhibit a narcissistic–perverse psychic organisation, as well as psychotic patients, all of whom are very difficult to reach. Such individuals' exclusion from parental intimacy during their developmental years, intensification of their destructive narcissism, their impaired superegos and ego-ideals, their failure in capacity to think, mourn and love, their exhibiting pathological envy, their utilising deception, their "ontological insecurity", their other common experiences and characteristics and therapeutic responses to them are brilliantly examined and illustrated with clinical examples. The book ends illustrating how perverse narcissistic processes represented in films, literature and philosophical thoughts, expand our theory and praxis. I consider this volume a valuable textbook that psychoanalysts and psychotherapists should keep on their bookshelves. - Vamık D. Volkan, professor emeritus of psychiatry, president emeritus of International Dialogue Initiative, and author of Large-Group Psychology.