Therapy and the Postpartum Woman: Notes on Healing Postpartum Depression for Clinicians and the Women Who Seek their Help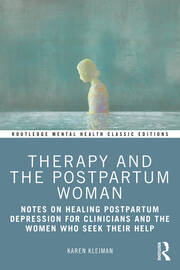 Book Details
Publisher : Routledge
Published : September 2022
Cover : Paperback
Pages : 334
Category :
Individual Psychotherapy
Catalogue No : 96744
ISBN 13 : 9781032163789
ISBN 10 : 103216378X
Also by Karen Kleiman

Written by a pioneer and continuing advocate for perinatal health, this book remains remains an enduring reference for any therapist working with pregnant or postpartum women and their families suffering from perinatal mood and anxiety disorders.This Classic Edition includes a new preface by Hilary Waller that reflects on changes in the field since the book's first publication.
Using a blend of professional objectivity, evidence-based research, and personal, straight-forward suggestions gathered from years of experience, this book brings the reader into the private world of therapy with the postpartum woman. Based on psychodynamic and cognitive-behavioral theories, and on D.W. Winnicott's 'good-enough mother' and the 'holding environment', the book is written by a therapist who has specialized in the treatment of postpartum depression for over 30 years. Chapters address diagnosis, medication, depression, psychosis, suicidal thoughts, bonding, as well as finding meaning and the power to heal during recovery.
Bringing further attention to under recognized illnesses which plague mothers and cloud the childbirth experience, this Classic Edition serves as an accessible companion tool for clinicians and the women they treat.
Reviews and Endorsements
"Congratulations to Karen Kleiman and Routledge for offering this Classic Edition of . Kleiman's sensitive, astute and clinically expert guidance continue to be greatly needed and valued by postpartum women, the clinicians who treat them and those who love them. Kleiman's wise yet down to earth approaches deeply connect with the women who most need support during most vulnerable time in their lives. What a gift that Kleiman continues to be a front-line resources, vigilantly protecting women when motherhood brings pain." - Susan Dowd Stone, MSW, LCSW, Past president and President's Advisory Council Member, Postpartum Support International, Adjunct Associate Professor, Silver School of Social Work, New York University, USA.

"Karen Kleiman brings to light the unique clinical and social context of the postpartum woman seeking therapy. Karen adeptly encapsulates the practical aspects of working with postpartum women. She highlights the importance of clinician qualities of warmth, compassion and empathic confidence for establishing a strong therapeutic relationship and a supportive 'holding environment' for the new mother." - Dr Renée Miller, Principal Clinical Psychologist, Antenatal & Postnatal Psychology Network, Australia.

"Karen Kleiman has the magic touch when reaching parents on their journey through perinatal mood and anxiety disorders. Her new book teaches all of us her magic of common sense and research-based techniques. We are all better off because of her." - Chris Raines, MSN RN APRN-BC PMH-C, President, Postpartum Support International, Adjunct Professor UNC-Chapel Hill, USA.

 
About the Author(s)
Karen Kleiman, MSW, LCSW, is a well-known international expert on postpartum depression. She is founder of The Postpartum Stress Center, a premier treatment and professional training center for prenatal and postpartum depression and anxiety. She has written several books on perinatal distress.
You may also like