Attachment, Sexuality, Power: Oedipal Theory as Regulator of Family Affection in Freud's Case of Little Hans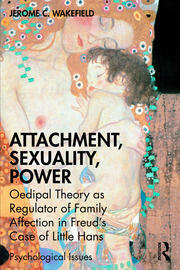 Book Details
Publisher : Routledge
Published : September 2022
Cover : Paperback
Pages : 306
Category :
Psychoanalysis
Category 2 :
Attachment Theory
Catalogue No : 96788
ISBN 13 : 9781032224091
ISBN 10 : 1032224096
Also by Jerome C. Wakefield
In Attachment, Sexuality, Power, Jerome C. Wakefield challenges established views of Freudian psychoanalysis by applying Foucault's concept of 'power/knowledge' to Freud's case of Little Hans, illuminating the role that Oedipal theory has played in reorganizing intimate family relationships.
Combining close examination of the Hans case with accounts of the history of marriage and psychology of co-sleeping, this book argues that the Oedipal theory achieved prominence because its implications for family dynamics supported changing social values. Wakefield identifies a previously overlooked reason for Hans's anxiety—his father attempted to protect Hans from his supposed Oedipal desires by separating Hans from his mother. Thus, Wakefield argues, the father's exercise of power based on his belief in Oedipal theory, not an actual Oedipus complex, caused Hans's vulnerability to anxiety—revealing the theory's potential to cause harm by distancing children from their parents, even as such distancing made the theory socially appealing.
This book's novel and carefully documented articulation of the mechanisms of power by which Oedipal theory exerts its influence on family life will be of interest to psychoanalysts and psychotherapists alike, and essential for scholars in the fields of psychoanalysis, philosophy of science and the history of psychiatry.
Reviews and Endorsements
"More than any of his other case studies, Freud's Little Hans is central to his theory of the Oedipus complex, which is at the core of his conception of neurosis and psychological development. There have been many reinterpretations of the Little Hans case, but there is none that even begins to match the thoroughness and cogency of Wakefield's exposition. This is so for at least two reasons: One is that Wakefield had access to evidence from the Freud Archives that was not available to other authors. The other reason is Wakefield's brilliance in bring the evidence together in the formulation of a thoroughly convincing set of theses. 

A central thesis of the book for which there is overwhelming evidence is that with the participation of Freud, Hans' father, Max Graf, imposed Oedipal theory on his wife and son as a means of keeping Hans from seeking intimacy and soothing from his mother and blocking his wife's effort to provide them – all in the service of having his wife pay more attention to him than to their son. This convincing formulation is located in the context of Foucault's power/knowledge discussion of the function of theory, that is, the role of a theory in supporting society's changing values and structures.

One can dispense with all previous interpretations of the Little Hans case. Wakefield's characteristically compelling analysis – which is also evident in his other works, for example, his analysis of Freud as philosopher of mind - renders previous accounts essentially peripheral. Finally, two additional comments: One, reading Wakefield's new book is like reading, through the lens of examining a particular case, an overall enlightening analysis and critique of core aspects of Freudian theory; and two, reading this book provides a taste of Wakefield's brilliance and whets one's appetite for gaining familiarity with his other work." - Morris Eagle is professor emeritus at the Derner Institute for Advanced Psychological Studies, Adelphi University, and author of Toward a unified psychoanalytic theory. 

"This book is a must-read for anyone interested in Freud scholarship, psychoanalysis, psychotherapy, feminism, intellectual and social history, the philosophy of science, and the social construction of parenthood. Using previously inaccessible materials, the author critiques Freud's famously strained oedipal analysis of a young boy's fear of horses, arriving at a new understanding rooted in shifting cultural power dynamics. Wakefield's readable and fascinating book restores dignity to 'Little Hans' and to his much-bashed mother, who deserves our admiration for taking her own maternal intuition more seriously than speculations from the 'new science' of psychoanalysis." - Nancy McWilliams is visiting full professor at Rutgers Graduate School of Applied & Professional Psychology, and author of Psychoanalytic Diagnosis

"Revisiting Freud's illustrious case history of 'Little Hans', Wakefield shows with almost forensic precision that the father of psychoanalysis got it all wrong: in fact, it was Freud's own Oedipal theory, enforced by Hans' father within this very Freudian family, that caused the boy's anxiety in the first place! Wakefield elucidates a truly Copernican reversal that makes this book a must-read for anyone wanting to know the truth about a theory that has played such an outsized role in our culture at large." - Mikkel Borch-Jacobsen is emeritus professor of Comparative Literature at the University of Washington, and author of Freud's Patients
About the Author(s)
Jerome C. Wakefield is university professor, professor of social work, affiliate professor of philosophy, professor of the conceptual foundations of psychiatry in the Department of Psychiatry (2007–2019), associate faculty in the Center for Bioethics in the School of Global Public Health, and honorary faculty in the Psychoanalytic Association of New York Affiliated with NYU Grossman School of Medicine, at New York University.
You may also like