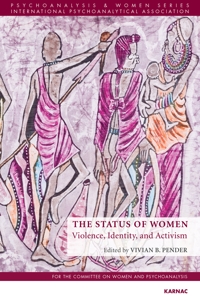 Book Details
Publisher : Routledge
Published : October 2016
Cover : Paperback
Pages : 286
Category :
Psychoanalysis
Catalogue No : 37115
ISBN 13 : 9781782203056
ISBN 10 : 1782203052
Also by Vivian B. Pender
This book examines the current status of women. It consists of a collection of papers that focus on the political, economic, biologic, cultural, academic and psychological challenges that confront women worldwide. The contributors, from the International Psychoanalytical Association's United Nations Committee and from a variety of disciplines, draw on their experience to consider how women are symbolized in society today. They offer perspectives on why the status of women and girls has not changed in some areas of the world while in others there has been discrete and noteworthy progress, sometimes followed by reactionary backlash. The book emphasizes how and why women's status has evolved, stalled or regressed to its present place. In the current era of globalization, new paradigms and the creation of new possibilities are necessary for women to think about their identity, their relationships, and their place in society. The Status of Women offers new perspectives on the broad scope of psychoanalytic theory and practice.
Reviews and Endorsements
'The strength and the tremendous impact of this book lie in its clarity, its multifaceted themes, its freedom from ideology, and its deep contact with the real condition of women and children in the world, which is so frequently and dramatically tragic. Vivian Pender, together with highly recognized colleagues, has for years given voice to psychoanalysis at the United Nations. There can be no residual doubt, after having read this volume, about the immensely important social function of psychoanalysis in the contemporary world, promoting an unending work in progress through awareness, humanization and civilization.'
- Stefano Bolognini, President of the International Psychoanalytical Association

'Vivian Pender has brought together a wonderfully diverse array of authors who examine the role of women in a wide variety of situations from a largely psychoanalytic point of view. This book is terrific, making us think anew about a set of age-old problems that beset all nations and peoples. This book should be required reading for everyone.'
- Elizabeth L. Auchincloss, MD, Vice Chair for Education, Department of Psychiatry, Weill Cornell Medical College

'This book bridges the gap between theory and practice in global feminism in an unusually robust way.'
- Gayatri Chakravorty Spivak, PhD, University Professor in the Humanities and Founding Member of the Institute for Comparative Literature and Society at Columbia University
About the Editor(s)
Vivian B. Pender, MD, is a Clinical Associate Professor of Psychiatry at the Weill Cornell Medical College and a Training Psychoanalyst at Columbia University. At the UN she represents the International Psychoanalytical Association and the American Psychiatric Association. Until 2011, she chaired the NGO Committee on the Status of Women. She is the current Chair of the NGO Committee on Mental Health, and a volunteer Asylum Evaluator for Physicians for Human Rights. She is the author of journal articles and a book chapter on affect, motivation, pregnancy, female psychology and women's health. She produced four documentaries of conferences at the United Nations on mental health, human rights and violence.
You may also like