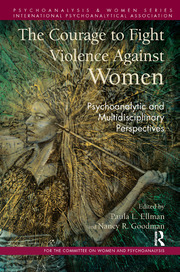 Book Details
Publisher : Routledge
Published : June 2017
Cover : Paperback
Pages : 304
Category :
Psychoanalysis
Catalogue No : 38851
ISBN 13 : 9781782204732
ISBN 10 : 1782204733
Also by Nancy R. Goodman
Also by Paula L. Ellman
In recent years there has been a surge in awareness of the many arenas in which violence against women occurs. There is a growing attention to human and sex trafficking and femicide throughout the world. Female genital mutilation along with childhood marriage and rape occur regularly in many societies. Sexual victimization of women in custody is now exposed. College campus violence against women has been a serious problem and only recently acknowledged.
In this edited book psychoanalysts show how violence can be seen, known and represented on the world stage and in psychoanalytic treatment. The editors bring psychoanalytic ideas and understanding in an effort to comprehend violence against women. Observing the active witnessing of the contributors to this book elucidates the way trauma is transformed into resilience and healing. Scholars and psychoanalysts from Argentina, Mexico, Peru, the United Kingdom and the United States together address this serious problem along with the consideration of depictions of violence against women in film, art, drama and poetry. With courage, multiple modalities of intervention become possible. Additionally, psychoanalysts develop psychoanalytic commentary of the presentations, bringing the psychoanalytic mind to the larger arena of the many courageous efforts at fighting violence against women.
Reviews and Endorsements
'The title of this new book speaks for itself. Courage is a component of the analyst–patient bond, and is even more necessary when we tell and are told the horror wrought by gender violence against women. This book attests to the courage needed to make this cry heard and pave the way for change.'
- Virginia Ungar, president-elect, International Psychoanalytical Association

'In this book Paula L. Ellman and Nancy R. Goodman have convincingly demonstrated that whenever and wherever there is conflict and unrest, at any time in history and anywhere across the globe, the beast of violence against women raises its ugly head. This frequently passes unnoticed. In listening to trauma there must be a witness; this book helps open witnessing through the courageous writing by psychoanalysts, activists, artists, poets and scholars.'
- Dori Laub, co-editor of Testimony: Crises of Witnessing in Literature, Psychoanalysis and History, and co-founder of the Fortunoff Video Archive for Holocaust Testimonies at Yale University

'This volume about the unfortunately very timely subject of violence against women includes wideranging discussions of the psychoanalytic and psychosocial dimensions of the problem. It explores national, international, political and personal aspects with depth and sensitivity. The book is a response to those that maintain that psychoanalysis lacks social consciousness and is concerned only with psychic reality and not the real world. The contributors address inter-psychic and interpersonal imperatives and consider historical, cultural, social and psychological determinants in their observations and writings. I am sure the volume will be widely read and widely cited.'
- Arnold Richards, psychoanalyst and former editor of the Journal of the American Psychoanalytic Association

'In this important book, we hear the voices of women suffering from violence in its many forms brought to us in the voices and words of courageous psychoanalysts, scholars, artists and activists who work to relieve the devastating suffering of so many women in many different contexts. Sex trafficked, fleeing genocides and wars, subject to violence in intimate and in social and cultural spaces, the women who are the focus of this book require our careful, open attention. It will take courage to read this book and to remain attentive to the pains and the triumphs it details. It is imperative that we all absorb the depth of the problem of violence against women and follow the path of the writers in this book to support and undertake work and care of women who are in danger everywhere.'
- Adrienne Harris, New York University

'The Courage to Fight Violence Against Women boldly addresses the subject from a broad psychosocial perspective that examines such violence as a derivative expression of unconscious fantasies and fears related to women's bodies and socio-political systems of suppression and control demanding an activist view. The volume also discusses creative expressions that deal with the issue as well as covering a number of important topics, including rape, sex trafficking, genital mutilation, and more. The authors originate from a variety of countries and disciplines, offering a rich and diverse understanding of an urgent issue. The editors have crafted an insightful, disturbingly relevant book that all clinicians should read.'
- Danielle Knafo, author of The Age of Perversion: Desire and Technology in Psychoanalysis and Culture
About the Editor(s)
Paula L. Ellman, PhD, ABPP, FIPA, is a training and supervising analyst in the Contemporary Freudian Society (CFS) and the IPA. She is the institute director of the Washington Program of the Contemporary Freudian Society, in addition to being on the permanent faculty. She is a diplomate in psychoanalysis certified by the American Board of Psychoanalysis in Psychology (ABPsaP) and assistant clinical professor of psychology at The George Washington University Center for Professional Psychology. She has held the following positions: Chair, Central Concepts Psychotherapy Training Program, Washington School of Psychiatry, Washington, DC; Member-at-large, Board of Directors of the Confederation of Independent Psychoanalytic Societies of the IPA (CIPS). She has written and presented in the areas of femininity and female psychology, listening, enactment, terror, and sadomasochism. She has a private practice in psychotherapy and psychoanalysis in North Bethesda, Maryland and Washington, DC.
More titles by Paula L. Ellman
Nancy R. Goodman, PhD, is a training and supervising analyst with the Contemporary Freudian Society, Washington DC Program and the IPA. She is interested in unconscious fantasy, witnessing of individual and mass trauma, enactments, and psychoanalysis and film. She is the leader of a CIPS study group on enactments. Her most recent publications include: The Power of Witnessing: Reflections, Reverberations, and Traces of the Holocaust—Trauma Psychoanalysis, and the Living Mind (co-editor/writer with Marilyn B. Meyers), 'Enactment: Opportunity for Symbolising Trauma' (Ellman & Goodman) in Absolute Truth and Unbearable Psychic Pain: Psychoanalytic Perspectives on Concrete Experience (ed. A. Frosch), as well as being editor of Psychoanalysis: Listening to Understand--Collected Papers of Arlene Kramer Richards. She maintains a psychoanalytic practice in Bethesda, MD.
You may also like