Vivian B. Pender
Vivian B. Pender, MD, is a Clinical Associate Professor of Psychiatry at the Weill Cornell Medical College and a Training Psychoanalyst at Columbia University. At the UN she represents the International Psychoanalytical Association and the American Psychiatric Association. Until 2011, she chaired the NGO Committee on the Status of Women. She is the current Chair of the NGO Committee on Mental Health, and a volunteer Asylum Evaluator for Physicians for Human Rights. She is the author of journal articles and a book chapter on affect, motivation, pregnancy, female psychology and women's health. She produced four documentaries of conferences at the United Nations on mental health, human rights and violence.
Showing 1 to 2 of 2 items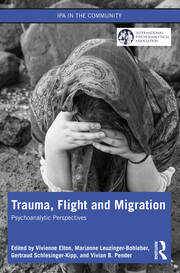 This book brings together leading international psychoanalysts to discuss what psychoanalysis can offer to people who have experienced trauma, flight, and migration.
The four parts of the book... (more)
This book examines the current status of women. It consists of a collection of papers that focus on the political, economic, biologic, cultural, academic and psychological challenges that confront... (more)
Showing 1 to 2 of 2 items