The Restoration of the Self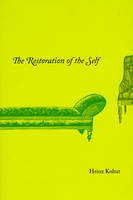 Book Details
Publisher : University of Chicago Press
Published : January 2009
Cover : Paperback
Pages : 368
Category :
Psychoanalysis
Catalogue No : 28982
ISBN 13 : 9780226450131
ISBN 10 : 0226450139
Also by Heinz Kohut
In his foundational work "The Restoration of the Self", noted psychoanalyst Heinz Kohut boldly challenges 'the limits of classical analytic theory' and the Freudian orthodoxy. Here Kohut proposes a 'psychology of the self' as a theory in its own right - one that can stand beside the teachings of Freud and Jung. Using clinical data, Kohut explores issues such as the role of narcissism in personality, when a patient can be considered cured, and the oversimplifications and social biases that unduly influenced Freudian thought. This volume puts forth some of Kohut's most influential ideas on achieving emotional health through a balanced, creative, and joyful sense of self.
Reviews and Endorsements
'Kohut speaks clearly from his identity as a psychoanalyst-healer, showing that he is more of a psychoanalyst than most, and yet calling for major theoretical revisions including a redefinition of the essence of psychoanalysis.'
- American Journal of Psychotherapy
About the Author(s)
Heinz Kohut (1913-81) was born on May 3, 1913 in Vienna, Austria - a country whose culture, literature and music permeated his very being. He finished his medical studies in 1938, after Austria was annexed to Nazi Germany, giving him little time to escape the horrors that awaited the Jews in that country. He then spent a year in England, from where he emigrated to the United State and settled in Chicago in 1939. Trained in neurology and psychiatry, he attained the rank of Assistant Professor in Psychiatry at the University of Chicago. He became a psychoanalyst at the Chicago Institute for Psychoanalysis, where he was a highly esteemed member of the faculty. As teacher, supervisor, mentor, thinker his two-year course on Freud's work became legendary. Kohut became President of the American Psychoanalytic Association for 1964-65. During the last ten years of his life, from 1971 to 1981, even while he was deathly ill throughout, he created his post-Freudian ""self psychology"" - a new theory and treatment approach to psychoanalysis - that was appreciated world-wide. Kohut is the author of many books, including How Does Analysis Cure? and The Restoration of the Self.
You may also like