The Analysis of the Self: A Systematic Approach to the Psychoanalytic Treatment of Narcissistic Personality Disorders

Book Details
Publisher : University of Chicago Press
Published : January 2009
Cover : Paperback
Pages : 384
Category :
Psychoanalysis
Catalogue No : 28981
ISBN 13 : 9780226450124
ISBN 10 : 0226450120
Also by Heinz Kohut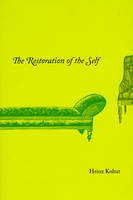 Psychoanalyst, teacher, and scholar, Heinz Kohut was one of the twentieth century's most important intellectuals. A rebel according to many mainstream psychoanalysts, Kohut challenged Freudian orthodoxy and the medical control of psychoanalysis in America. In his highly influential book The Analysis of the Self, Kohut established the industry standard of the treatment of personality disorders for a generation of analysts. This volume, best known for its groundbreaking analysis of narcissism, is essential reading for scholars and practitioners seeking to understand human personality in its many incarnations.
Reviews and Endorsements
'Kohut has done for narcissism what Charles Dickens did for poverty in the nineteenth century. Everyone always knew that both existed and were a problem....The undoubted originality is to have put it together in a form which carries appeal to action.'
- International Journal of Psychoanalysis
About the Author(s)
Heinz Kohut (1913-81) was born on May 3, 1913 in Vienna, Austria - a country whose culture, literature and music permeated his very being. He finished his medical studies in 1938, after Austria was annexed to Nazi Germany, giving him little time to escape the horrors that awaited the Jews in that country. He then spent a year in England, from where he emigrated to the United State and settled in Chicago in 1939. Trained in neurology and psychiatry, he attained the rank of Assistant Professor in Psychiatry at the University of Chicago. He became a psychoanalyst at the Chicago Institute for Psychoanalysis, where he was a highly esteemed member of the faculty. As teacher, supervisor, mentor, thinker his two-year course on Freud's work became legendary. Kohut became President of the American Psychoanalytic Association for 1964-65. During the last ten years of his life, from 1971 to 1981, even while he was deathly ill throughout, he created his post-Freudian ""self psychology"" - a new theory and treatment approach to psychoanalysis - that was appreciated world-wide. Kohut is the author of many books, including How Does Analysis Cure? and The Restoration of the Self.
You may also like