The Realisation of Concepts: Infinity, Cognition, and Health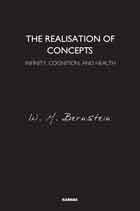 Book Details
Publisher : Routledge
Published : March 2014
Cover : Paperback
Pages : 250
Category :
Neuroscience
Category 2 :
Psychoanalysis
Catalogue No : 34692
ISBN 13 : 9781782200703
ISBN 10 : 1782200703
Also by W.M. Bernstein

There has recently been a flurry of theoretical activity in affective neuroscience and neuropsychoanalysis. This book argues that the ability to integrate biological and psychological levels of understanding is inhibited by two important issues. First is the assumption made by most theorists that physical and mental phenomena are essentially different ("the Hard Problem"). Second, is the ambiguity of the widely used "Affect Concept".
Ideas about the autonomic nervous system are integrated with those from the author's previous text A Basic Theory of Neuropsychoanalysis. The Realization of Concepts is based on four key assumptions: (1) There is no "Hard Problem"; (2) Motivational theory and cognitive theory can be integrated to create more valid models of body, brain and mind interactions; (3) "Affect Concepts" are superfluous and work to inhibit theory integration; and, (4) Affect theory developed as a "compromise formation" in response to radical reductionism.
Dynamic parasympathetic braking processes are seen as centrally important causes of competence to use semantic self and nonself-concepts to regulate sensory data, feelings, other concepts, and overt behaviour. A model is presented which describes how levels of sympathetic arousal and parasympathetic tone interact to cause normal, pathological and highly competent brain and mind states. Combining talk therapies with real time biofeedback data is described as a method for enhancing the parasympathetic tone.
Reviews and Endorsements
'Dr William Bernstein's The Realisation of Concepts presents a fruitful expansion of emerging scientific concepts to probe the mind/body enigma. His broad mission richly details diverse sorts of experiential awareness that arise from interactions between the autonomic nervous systems and the sub-cortical and neocortical parts of the brain. The book also describes how certain implicit ideas from religion, politics, science, and medicine work as barriers to integrating psychological and biological theories. He views all experience as matters of curiosity that are not to be immobilised prematurely. Mental competence is defined as the ability to regulate attention and remain in contact with emerging psychophysiological processes. Bernstein adroitly leads the reader through this enjoyable and stimulating process.'
— Dr Jack Wiggins, former President of the American Psychological Association and Founder of the American Board of Medical Psychology

'W. M. Bernstein is one of the most unorthodox authors in neuropsychoanalysis today. And his approach to the brain–mind problem is guided by one simple principle: a good theory is a theory that has enough depth, in other words, its most general concepts should explain parsimoniously more specific ideas at subordinate levels of analysis. Such an axiom is the heart of this book, a quest to critically review the problem of affect regulation, integrating findings from social psychology, psychoanalysis, and neuroscience. The Realisation of Concepts is a welcome contribution to the field of neuropsychoanalysis, advancing our understanding on how drives and representations are related to each other.'
— Christian E. Salas, PhD, clinical neuropsychologist and psychoanalytic psychotherapist, Bangor University, Wales

'Dr Bernstein continues to develop his unique, timely, and important view of how subjective experiences are both causes and effects of biological processes. In this book he further elaborates how complex information and conflict at both psychological and physiological levels may find resolution in valid semantic concepts, thereby increasing mental control and advancing human evolution. The Realisation of Concepts provides a much-needed conceptual container to help make sense of the momentous paradigm shifts occurring in medicine and psychology. As such, this book is a key contribution to integrative disciplines including medical psychology, neuropsychology, and neuropsychoanalysis. It is also a fascinating and enlightening philosophy of mind in its own right.'
— Jeffrey D. Cole, PhD, clinical and medical psychologist, Director, Board of Directors, American Board of Medical Psychology
About the Author(s)
W.M. Bernstein trained in Biology, Social Psychology, Psychoanalysis and Psychopharmacology. He is a Diplomate of the American Board of Medical Psychology; and, was one of the first psychochologists in the US authorized to prescribe psychotropic medicines.
You may also like