Socioanalytic Methods: Discovering the Hidden in Organisations and Social Systems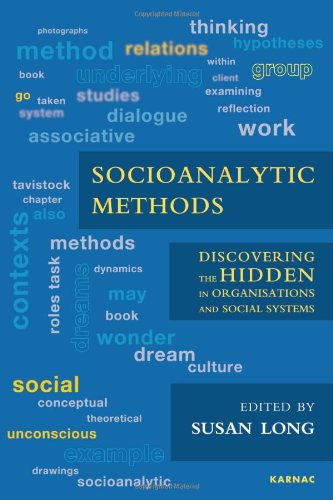 Book Details
Publisher : Routledge
Published : April 2013
Cover : Paperback
Pages : 352
Category :
Organisational Psychology
Category 2 :
Psychoanalysis
Catalogue No : 33236
ISBN 13 : 9781780491325
ISBN 10 : 1780491328
Also by Susan Long

Socioanalysis is the study of groups, organisations, and society using a systems psychoanalytic framework: looking beneath the surface (and the obvious) to see the underlying dynamics and how these dynamics are interconnected. This book examines several of the methodologies used in socioanalytic work. Even though the beginnings of socioanalytic investigation lay in the mid-twentieth century, a broad look across several methodologies has not been done before, despite separate publications dealing with particular methods. In addition, several new methods have been developed in recent years, which the present work incorporates.Connecting all these methods is their aim of 'tapping into' the dynamic operation of what the author calls 'the associative unconscious' within and between social systems. The associative unconscious is the unconscious at a systemic level. Each of the methods discussed in this book accesses the associative unconscious in different ways. They help bring hidden dynamics to the surface for people to see how they influence, aid, or inhibit their activities. Excitingly, they can show what we know at some level but have not yet been able to use. And, because the methods explore social systems, they can contribute to new collaborative endeavours for thinking the future.
Reviews and Endorsements
'This book is a feast of theory and method. It takes up what might be experienced as overly abstract ideas, such as "culture", "system", and "matrix", and makes them real in the context of actual methods and practices. Susan Long and Maurita Harney's introductory essay, linking socioanalysis to Pierces' theory of abduction, is a masterstroke. It grounds socioanalysis in a philosophic tradition and demonstrates how socioanalysis, in the spirit of abduction, stimulates moments of discovery and surprise for client, consultant and researcher. Surprise, as abduction makes clear, is the beginning of discovery. The essays that follow on the use of drawings and photos, on social dreaming, on the salience of reflective spaces, on organizational role analysis and on other methods, all demonstrate how the scholar practitioner can stimulate discovery through the judicious use of practical methods. This book has surprises for the experienced practitioner as well as those just entering the field. I recommend it highly.'
- Larry Hirschhorn, PhD, Principal, Center for Applied Research, Philadelphia

'An exciting collection of new essays, by some of the world's leading theorists and practitioners of socioanalysis, who explore reflective spaces necessary for understanding and renewing organizations and social systems. The depth and range of explorations of the "associative" social unconscious, the analysis of work culture using reflective space, and specific methods and tools (including the distinctiveness of socioanalytic interviewing and social dreaming, listening posts, conferences, and understanding specific "country romances" socioanalytically), can help address national problems. A "must read" for learning and thinking contemporary socioanalytic theory and practice.'
- Professor Douglas Kirsner, School of Humanities and Social Sciences, Deakin University, Melbourne

'This is a fantastic book that pulls together and integrates the various perspectives that have developed over the last century with respect to what is going on "below the surface" in individuals and organizations. By providing a palette of lenses, the reader is invited to explore, discover and find meaning and insight into dynamics and behaviours that otherwise remain out of awareness. Each chapter contributes to a deepening level of understanding, enabling the reader to form hypotheses which lead to the discovery of the rationale beneath the "irrational" aspects of human behaviour in organizations. Anyone who is curious about why people and organizations behave the way they do will most certainly find this book a great source of insight.'
- Roger D. Lehman, Director, Executive Masters in Consulting and Coaching for Change; Affiliate Professor, INSEAD, Singapore and France
About the Editor(s)
Susan Long supervises research students and conducts organisational research at a variety of universities including INSEAD in Singapore, MEICAT, University of Melbourne, University of Divinity in Melbourne and Crossfields. As an organisational consultant in private practice she works with organisational change, executive coaching, board development, role analysis, team development and management training. She originally trained as a clinical psychologist and psychotherapist. Her experience of working with people as individuals and in groups and organisations gives her a broad perspective on management practices.

Susan's capacity as a teacher and organizational consultant/ researcher has led her to be invited onto the boards of prestigious organizations and elected onto the committees of professional bodies. She is a Faculty Member in the Grubb School of Organisational Analysis. She is a member of the Board of the Judicial College of Victoria and of Comcare's advisory board for the Center of Excellence for Research into Mental Health at Work. She was the founding President of Group Relations Australia and a past president of the International Society for the Psychoanalytic Study of Organisations. Her participative action research has attracted grants through the Australian research Council and industry. She has published six books and many journal articles.
You may also like