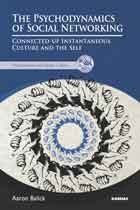 Book Details
Publisher : Routledge
Published : September 2013
Cover : Paperback
Pages : 224
Category :
Culture and Psychoanalysis
Category 2 :
Psychoanalysis
Catalogue No : 32929
ISBN 13 : 9781780490922
ISBN 10 : 1780490925
Over the past decade, the very nature of the way we relate to each other has been utterly transformed by online social networking and the mobile technologies that enable unfettered access to it. Our very selves have been extended into the digital world in ways previously unimagined, offering us instantaneous relating to others over a variety of platforms like Facebook and Twitter. In The Psychodynamics of Social Networking, Aaron Balick draws on his experience as a psychotherapist and cultural theorist to interrogate the unconscious motivations behind our online social networking use, powerfully arguing that social media is not just a technology but is essentially human and deeply meaningful.
Reviews and Endorsements
'When was the last time you didn't have a conversation about social networking and the internet? Aaron Balick has pulled off something remarkable – his book is one of the best examples of the cultural application of therapy thinking that I have read. But he has also
shown how the internet expands and disrupts the cosy assumptions of psychodynamics and psychotherapy. While it will no doubt be read by all sentient therapists, more importantly this should be a break-out book as well, clicking its way into the public conversation.'
— Andrew Samuels, Professor of Analytical Psychology, University of Essex

'Social media has changed all of our lives. It's all too easy to pretend that it doesn't impact on our clinical practices and that we and the people we see are sequestered behind our consulting room doors. Not so. Social media has infiltrated our psyches demanding that we rethink issues of recognition, longing, connection, and dissociation. Aaron Balick does this magnificently, anticipating not only what psychotherapists would like to know and theorise, but also anyone else who is interested in the deeper psychological meanings of social networking and our society. Read it and reflect.'
— Susie Orbach, psychoanalyst and author of The Impossibility of Sex

This is a timely book looking at the enormous impact that social networking has had on our society and how it is profoundly influencing our lives. While there is currently a great deal of thinking about the psychological ramifications of these sorts of changes there has been little work looking at the psychodynamics of individuals who use and depend upon these social networks, and the consequences for themselves and their important relationships. Popular hubs of social networking such as Facebook and Twitter feature centrally in this text, as well as the impact of the ubiquity of access through smartphones; the nature of this impact on interpersonal relationships and the formation of the 'self' will be of particular interest.

The approach taken differs from many books already on the market as the author takes a psychodynamic approach: that is, investigating the nature of social networking on the personal and social unconscious and its relationship to how we create, build, and maintain relationships. Insights from relational psychoanalysis inform the text. Relational psychoanalysis being that which concerns itself primarily with relating to others as a primary human motivation, taking in both unconscious object relational perspectives alongside relationships with real others. Social networking is interpreted as a new and relatively under-researched ground in which relational dynamics are played out.

Psychotherapists encounter the inside story and personal narratives of individuals living more and more of their lives online, hence the psychothereapeutic perspective gives a particularly unique insight into this matter. The Psychodynamics of Social Networking uses contemporary psychoanalytic theory to investigate the processes involved particularly in the ways in which individuals engage with each other through social networking, ultimately constructing how individuals perceive themselves both within and outside this context. Psychodynamic theory is applied to a variety of existing research and personal narratives is used to illustrate theory.
About the Author(s)
Dr Aaron Balick is a UKCP registered psychotherapist, supervisor and a media and social networking consultant working in London. Aaron is also an honorary lecturer at the Centre for Psychoanalytic Studies at the University of Essex where he participates in the post-graduate MA and PhD programmes in psychoanalytic studies; he also lectures and runs workshops in a variety of psychotherapy trainings in the UK. As a founding and executive member of The Relational School UK, he works to develop and promote relational thinking in the UK and abroad. Dr. Balick writes for both academic and lay audiences having published several academic articles and book chapters while at the same time contributing a psychological angle on national press and radio; he has also written a self help book for children. Aaron is a media spokesperson for the UKCP and a regular contributor as the ""resident psychotherapist"" on Radio One's phone-in show, The Surgery with Aled.
You may also like