The Next Generation of Solution Focused Practice: Stretching the World for New Opportunities and Progress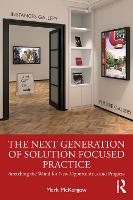 Also by Mark McKergow
The Next Generation of Solution Focused Practice shows how practitioners help create change by 'stretching the world' of their clients.
The book brings new ideas from enactive cognition which show how skilled attention on the client and their words is important both practically and conceptually. It provides both a summary of the development of Solution Focused Brief Therapy (SFBT) over time and how the latest developments form a newly coherent form of practice based on developing descriptions. The author has structured the book using simple and easy to understand metaphors to paint a rich, creative, and visual picture of therapy for the reader, which makes it an accessible read.
This book will be of interest to a wide range of SF practitioners internationally, as well as to those involved in coaching, counselling, family therapy, education, social work, healthcare and organisational change.
Reviews and Endorsements
"Mark McKergow's book provides a complete and extensive account of the development of Solution Focused practice, summarises the current state of knowledge in the field and looks at possible changes and advances in this part of the therapy world. I know of no clearer record of its history and the consequential events." - Dr Alasdair Macdonald, retired consultant psychiatrist and freelance researcher, author of Solution Focused Therapy: Theory, Research & Practice.

"A fascinating account of the past, present and future of SFBT that inspires us solution-focused practitioners to 'stretch our world' to notice key developments and invites others to 'stretch their world' to regard SFBT as a viable approach!" - Peter Sundman, Taitoba Institute, Helsinki, Finland.

"Mark McKergow takes the reader through the story of Solution Focused practice from its conception and early formative influences through the dilemmas and developments that led to the effective, efficient, ethical and elegant form of the practice that is most widely taught and used today. The book is invaluable not only for how to do good SF practice, but also about what happens when we do, why it works, and how we can explain this convincingly and powerfully to others. It is also a really great read!" - Suzi Curtis, Clinical Psychologist, Accreditation Lead for the UK Association for Solution Focused Practice.

"This book provides a beautifully straightforward, comprehensive overview of the current state-of-the-art of solution-focused brief therapy and where it sits in the larger therapeutic landscape. Excitingly, it goes the extra mile by exploring how we can make sense of the effectiveness of this special kind of therapy through the lens of the avant-garde enactivist movement in philosophy and cognitive science. It is a full package that serves as an exciting starting point for looking afresh at how we might better enhance mental health and wellbeing, effectively and efficiently." - Daniel D. Hutto. Senior Professor of Philosophical Psychology, Head of the School of Liberal Arts, University of Wollongong, Australia.

"Mark McKergow offers fresh and exciting insights on the evolving practice of Solution Focus Brief Therapy in this new book... by looking back at its genesis and emergence as a distinct and new kind of treatment; analysing its present principles and aesthetic, before building a new paradigm, which explores the question of how we continue to 'stretch the world' for our clients and practitioners. Turning these complex problems into solutions speaks loudly to my instincts as a coach and improviser. Exploring Mark's new insights, ideas and methods will become the bedrock of my work with individuals and groups for years to come." Andrew Paine, Life Coach.

"I can think of no other book that extends the classic canon of the development of Solution Focused practice as well as this one. The world has been awaiting a description of next steps in the continuous, and unstoppable, development of the practice. Mark has been at the centre of it all, but also pleasantly looking beyond its horizons. This book captures the twists and turns that have been evident for quite some time, both viewable from a far and from its midst. It is an amazing achievement." Jonas Wells, Coordination manager of South Dalarna Coordination Agency & chair of the Swedish Association of Solution-Focused Practitioners.

"Using the metaphor of an art gallery, Mark Mckergow provides a clear process for the professional to track where they are in the conversation and exactly what question to ask the client next. This book takes the SolutionFocused Approach to a new level, a new evolution, and into a new era." - Elliott Connie, President and Founder of the Solution Focused Universe.
About the Author(s)
Dr Mark McKergow is Director at the Centre for Solutions Focus at Work in Edinburgh, Scotland. He is the author of six books including The Solutions Focus (with Paul Z Jackson) and Hosting Generative Change (BMI, 2020). Mark sits on the editorial boards of the Journal of Solution Focused Practice and the Journal of Systemic Therapies, and is a leading light in the SOLWorld community of organisational SF practitioners. He also plays jazz, clarinet and saxophone.
You may also like