Mark McKergow
Dr Mark McKergow is Director at the Centre for Solutions Focus at Work in Edinburgh, Scotland. He is the author of six books including The Solutions Focus (with Paul Z Jackson) and Hosting Generative Change (BMI, 2020). Mark sits on the editorial boards of the Journal of Solution Focused Practice and the Journal of Systemic Therapies, and is a leading light in the SOLWorld community of organisational SF practitioners. He also plays jazz, clarinet and saxophone.
Showing 1 to 3 of 3 items This text explains why the sooner parents understand and accept their children's stages and phases, the easier life becomes. All children want (more)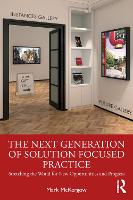 The Next Generation of Solution Focused Practice shows how practitioners help create change by 'stretching the world' of their clients.
The book brings new ideas from enactive cognition which... (more)
Showing 1 to 3 of 3 items