The Myth of the Untroubled Therapist: Private Life, Professional Practice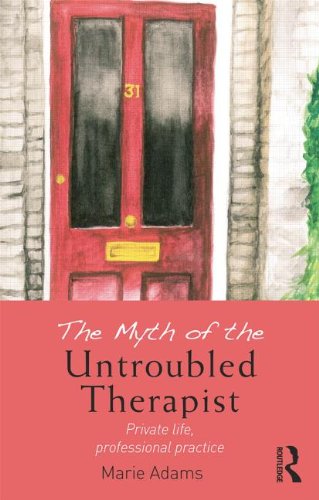 Book Details
Publisher : Routledge
Published : 2013
Cover : Paperback
Pages : 160
Category :
Individual Psychotherapy
Catalogue No : 35196
ISBN 13 : 9780415532600
ISBN 10 : 0415532604
Therapists are often expected to be immune to the kind of problems that they help clients through. This book serves to demonstrate that this is certainly not the case: they are no more resistant to difficult and unexpected personal circumstances than anyone else. In this book Marie Adams looks into the kind of problems that therapists can be afraid to face in their own lives, including divorce, bereavement, illness, depression and anxiety and uses the experience of others to examine the best ways of dealing with them.
The Myth of the Untroubled Therapist looks at the lives of forty practitioners to learn how they coped during times of personal strife. CBT, psychoanalytic, integrative and humanistic therapists from an international array of backgrounds were interviewed about how they believed their personal lives affected their work with clients. Over half admitted to suffering from depression since entering the profession and many continued practising while ill or under great stress. Some admitted to using their work as a 'buffer' against their personal circumstances in an attempt to avoid focusing on their own pain. Using clinical examples, personal experience, research literature and the voices of the many therapists interviewed, Adams challenges mental health professionals to take a step back and consider their own well-being as a vital first step to promoting insight and change in those they seek to help.
Linking therapists' personal histories to their choice of career, The Myth of the Untroubled Therapist pinpoints some of the key elements that may serve, and sometimes undermine, counsellors working in private practice or mental health settings. The book is ideal for counsellors and psychotherapists as well as social workers and those working within any kind of helping profession.
About the Author(s)
Marie Adams is a writer and practising psychotherapist. She is on staff at the Metanoia Institute on the Professional Doctorate programme, and is a visiting lecturer at a number of other training institutes, including the Institute For Arts in Therapy and Education. During her career Marie has had a long association with the BBC; for many years she was a producer on the Today Programme and, more recently, a consulting psychotherapist to news and documentary staff. Her book, The Myth of the Untroubled Therapist, is now a standard text on counselling and psychotherapy training courses throughout the country.
You may also like