The Making of Psychotherapists: An Anthropological Analysis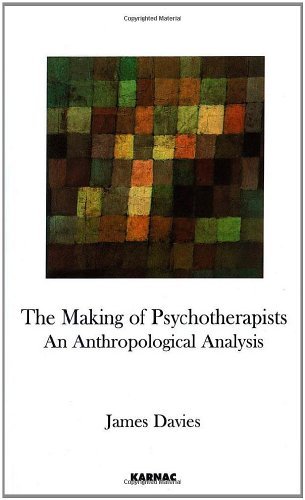 Book Details
Publisher : Routledge
Published : 2009
Cover : Paperback
Pages : 318
Category :
Individual Psychotherapy
Category 2 :
Psychoanalysis
Catalogue No : 27346
ISBN 13 : 9781855756564
ISBN 10 : 1855756560
Also by James Davies
Here, for the first time, is a book that submits the psychoanalytic training institute to deep anthropological scrutiny. It expertly uncovers the hidden institutional devices used to transform trainees into professionals. By attending closely to what trainees feel, do, and think as they struggle towards professional status, it exposes the often subtle but deeply penetrating effects psychoanalytic training has upon all who pass through it; effects that profoundly shape not only therapists (professionally and personally), but also the community itself. Davies' fascinating and original data is culled from his extensive fieldwork, his case-studies of clinical work, and his interviews with teachers, senior practitioners and trainees. This book is written to be accessible to all those who have an interest in the therapeutic profession from the professional (whether psychotherapist or anthropologist) to the trainee and general reader.
Reviews and Endorsements
'A remarkable anthropological study via participant observation of the world of psychoanalysis and psychoanalytic psychotherapy. Davies has produced a tour de force of critical yet compassionate engagement covering all aspects of our institutional life, including the institution of the clinic itself. I found myself fascinated and informed on almost every page - and I thought I was a pretty seasoned and well-informed observer of and actor in the scene. Sometimes I felt mortified at how I have let all kinds of assumpions develop, though Davies does not take an Olympian, hyper-academic stance of 'a plague on all your houses' (he could be forgiven if he had). But he does force us to consider our professional histories and practices much more seriously than is usually the case, with all the splits, ructions, character assassinations and conformist tyrannies performed in the name of high standards and good practice. Anyone involved with training or other work of any kind in psychoanalytic organisations who cares about the degree of self-knowledge and social awareness they bring to their jobs should read this work.'
- Andrew Samuels, Professor of Analytical Psychology, University of Essex

'A wise, thoughtful, careful examination of a world often shrouded in secrecy. Davies is both a trained
psychotherapist and a trained anthropological observer. As a result, his observations have a quite different feel than most of the literature in either field. Not only psychotherapists, but their clients (not to mention anthropologists) can look to this book to understand how this profession learns to see and respond to human pain.'
- Professor Tanya Luhrmann, Department of Cultural and Social Anthropology, Stanford University

'Combining narrative and analytical skills, Davies provides a gripping story of life among trainee and professional psychoanalytic therapists and their patients. The clinic is the participant anthropologist's village and the dramatis personae are the individuals he studies, whose ambitions and problems punctuate their learning and experiences of psychotherapy.... While laying bare the sometimes unpalatable essence of such training, Davies conveys warmth and empathy for his fellow participants. The value of the study goes beyond the particular instance of psychoanalysis and tells us how small groups meet all kinds of unanticipated consequences as they transmit the knowledge on which their profession depends'
- David Parkin, Emeritus Professor of Social Anthropology, University of Oxford (All Souls College)

'His careful and well-written examination of the training process and the insights that he brings from anthropology offer us a timely and valuable contribution to meeting the many challenges now threatening the vitality and even very exitence of our profession.'
- Caroline Morconi, News for the Foundation for Psychotherapy

'The making of psychotherapists: an anthropological analysis offers a careful look into the daily practices by which institutions of affirmation train individuals to re-create and sustain the social structures of the community itself, unravels some of the processes that contribute to the making of psychotherapists, and convincingly shows the 'becoming' of the trainee into a transformed practitioner.'
- Giorgia Dona, Journal of the Royal Anthropological Institute
About the Author(s)
James Davies, PhD, is a member of St Cross College, University of Oxford, where he also obtained his doctorate in social anthropology. He is a social anthropologist, a qualified and practicing psychotherapist working in the NHS, and a senior lecturer in the School of Human and Life Sciences, Roehampton University (London).
You may also like