The Kleinian Tradition for Psychotherapists and Counsellors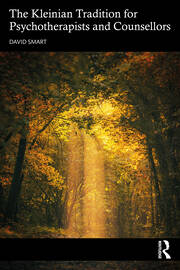 Book Details
Publisher : Routledge
Published : April 2023
Cover : Paperback
Pages : 184
Category :
Individual Psychotherapy
Catalogue No : 97094
ISBN 13 : 9781032181202
ISBN 10 : 9781032181
This book explores how Kleinian psychoanalysis has developed over the past 75 years and how it illuminates human experience and relationships inside and outside the consulting room.
The text will help the reader gain a deeper understanding of processes of splitting, projection, and identification in clinical work; a broader conception of how internal and external worlds interact and affect each other; greater clarity on key theoretical and ethical issues; and an overview of what the Kleinian tradition has contributed to mental health and wellbeing. Concepts are presented in a structured progression, accompanied by summaries of key papers by prominent clinicians.
Offering an accessible account of a key strand of British Object Relations, this essential resource will be of value to trainee, newly qualified, and experienced psychodynamic counsellors and psychoanalytic psychotherapists, as well as teachers, social workers, and nurses.
Reviews and Endorsements
'This important book by David Smart gives a succinct account of the history, theory and practice of Kleinian and post-Kleinian psychoanalysis. It's a fascinating and excellent resource for therapists and counsellors wishing to gain a better understanding of Kleinian psychoanalysis, distilling complex theoretical and clinical understanding in a clear and accessible way for those without clinical backgrounds. I came away with a renewed appreciation of Kleinian psychoanalysis as an important lens to understand the human condition. This book is useful to all wanting to learn about or refresh their thinking about the importance of the Kleinian tradition.
Angelina Veiga, Child and Adolescent Psychoanalytic Psychotherapist, Adult Psychotherapist, Disability Psychotherapist.

'A valuable synopsis of the work of Klein and of the ways in which her understanding of human nature can be applied in the twenty-first century. David Smart writes clearly and with conviction covering a wide range of human experience. Those who already know and value Klein's work will find new insights and the breadth of the investigation will help newcomers to see the use of it. Scholarship is worn lightly but gives a depth to the thinking, reminding us that much time has passed since Klein wrote but that we can find a great deal to use today in any work that requires an attempt to understand the mysteries of human nature.'
Lesley Murdin, Psychoanalytic Psychotherapist, Supervisor, Author, former CEO of WPF Therapy.

'I wish The Kleinian Tradition for Psychotherapists and Counsellors had been available when I first started teaching! It will be an excellent resource for my trainee counsellors as well as for qualified therapists. Smart's book makes Kleinian thought accessible and digestible. The inclusion of clinical material adds to its authenticity and practicality. It is a comprehensive and in-depth overview of the Kleinian tradition. The inclusion of Institutional and Social Dynamics, Sexuality and Gender issues makes this a contemporary and up-to-date re-thinking of the significance and relevance of Klein's work for the 21st century.'
Nancy Browner, Course Leader, The Minster Centre.

'David Smart has written a single volume introduction that summarises Kleinian ideas and the major Kleinian authors. Its well thought-out thematic organization and clear prose will be a pleasure to read for non-specialists who may otherwise struggle with the sometimes difficult style and idiosyncratic terminology of Klein and her followers. The book has a clinical focus, while also demonstrating how these concepts can be applied to other areas like organizational dynamics. This is likely to become a classic textbook for psychodynamic counsellors and psychotherapists in training, as well as a great help to others who wish to gain an overview of Kleinian thought, such as mental health professionals working in different modalities.'
Sebastian Kohon, Child/Adolescent and Adult Psychoanalytic Psychotherapist.
About the Author(s)
David Smart trained as a psychodynamic psychotherapist after a first career in Special Educational Needs. He has worked in NHS settings and as a school counsellor. He is now a psychotherapist in private practice.
You may also like