The Kleinian Development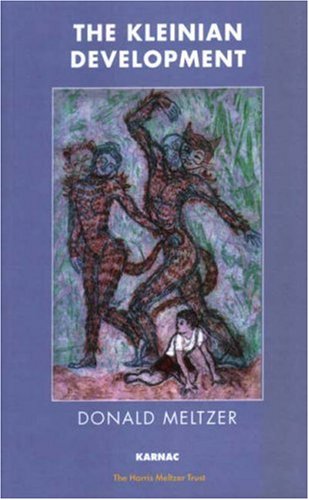 Book Details
Publisher : Harris Meltzer Trust
Published : 2008
Cover : Paperback
Pages : 432
Category :
Psychoanalysis
Catalogue No : 27195
ISBN 13 : 9781855756786
ISBN 10 : 1855756781
Also by Donald Meltzer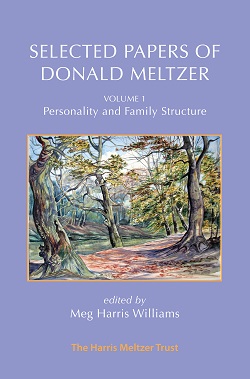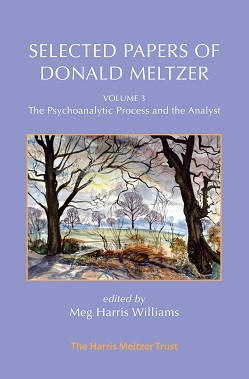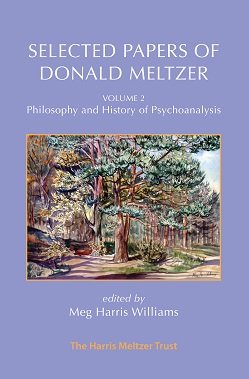 Paperback
£37.99
Usually despatched within 4-5 working days
Free delivery worldwide
This title has been delisted and is no longer available to purchase
This classic text derives from lectures delivered at the Institute of Psycho-Analysis, London and the Tavistock Clinic (1965-78). It is divided into 3 clear parts that examine, in turn, the writings of Sigmund Freud, Melanie Klein and Wilfred Bion.
Reviews and Endorsements
'Like Borges, who preferred to be remembered as a good reader rather than a writer, Meltzer was an excellent creative reader, as one can appreciate in this superb account of the work of Freud, Melanie Klein and Bion.'
- Claudio Bermann, Grupo Psicoanalitico de Barcelona

'Meltzer's beautifully written text traces a line of development in psychoanalysis from Freud through Abraham to Klein and Bion, focusing on their methods of observation, clinical work and emerging theories. By highlighting points of congruence and difference and significant shifts in understanding, he outlines a continuity of clinical method and thought that has come to be known as the Kleinian Development. This text is an invaluable companion to the readings of Freud, Klein and Bion for all students of psychoanalysis, for clinicians and for all those interested in the development of psychoanalytic thinking.'
- Debbie Hindle, Organizing Tutor, Scottish Institute of Human Relations

'To really appreciate the originality of Meltzer's thinking, one needs to grasp how deeply his ideas are rooted in the psychoanalytic tradition. This book provides a close reading of classical texts by Freud, Klein and Bion - what Meltzer calls the Kleinian Development - with an emphasis on case material. With Meltzer as guide we can discover a wealth of object-relational themes in Freud, themes that seem more evident today than in the early years of psychoanalysis. In Part 1 of the book we follow the tension between Freud's truthfully written clinical observations and a theory not always capable of apprehending these findings, and see how this tension became a challenge to the next generation of analysts, among them Klein. In Part 2, a week-by-week account of her Narrative of a Child Analysis, Klein's clinical notes provide a rare opportunity to get very close to the clinical process. Meltzer throws new light on this material and shows the development in Kleinian and post-Kleinian thinking through the oscillations between clinical observations and model-making. Part 3 may serve as an introduction to Bion, but this is very much the Bion of Meltzer, and it leads the way to his later more original work. In this book Meltzer's deep appreciation of his former masters comes forth clearly, but in a form that is very much alive and challenging.'
- Grete Tangen Andersen, Morten Andersen, Jon Morgan Stokkeland, Lilian Stokkeland, Eirik Tjessem (The Meltzer Study Group, Stavanger, Norway)

'The Kleinian Development is based on transcripts of seminars given during the 60s and 70s at the Tavistock Clinic to child psychotherapists in training and at the Institute of Psychoanalysis. [Meltzer's] voice echoes through the pages, eliciting memories of the many occasions on which he offered his audience the benefit of his observational skill and sometimes startling intuitions. For clinicians, whether students of the psychoanalytic method or experienced practitioners, this work provides a source of enlightenment which will become increasingly satisfying the more it is read.'
- Kate Carling, Consultant Child and Adolescent Psychotherapist, Swindon and Marlborough NHS Trust

About the Author(s)
Donald Meltzer (1923-2004) is widely known as a psychoanalyst and teacher throughout Europe and South America. He is the author of many works on psychoanalytic theory and practice, including The Psychoanalytical Process, Sexual States of Mind, Explorations in Autism, The Kleinian Development, Dream Life, Studies in Extended Metapsychology, and The Claustrum, all published by the Harris Meltzer Trust.
You may also like