The Klein Tradition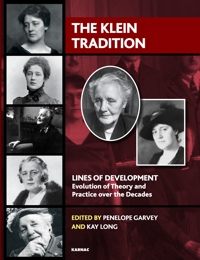 Book Details
Publisher : Routledge
Published : May 2018
Cover : Paperback
Pages : 544
Category :
Psychoanalysis
Catalogue No : 40252
ISBN 13 : 9781782205982
ISBN 10 : 1782205985
Also by Penelope Garvey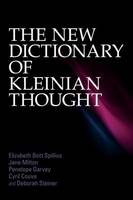 Melanie Klein's extension of Freud's ideas - in particular her explorations into the world of the infant and her emphasis on the complex interactions between the infant's internal world of powerful primitive emotions of love and hate and the mothering that the infant receives - were greeted with skepticism but are now widely accepted as providing an invaluable way of understanding human cognitive and emotional development. Klein's insights shed light on persecuted states, guilt, the drive to create and to repair; they also provide the clinician with a theory of technique.
Klein's work has inspired the work of psychoanalysts around the world. Her concept of projective identification with its implications for the understanding of countertransference made a significant impact on her followers and on psychoanalysts in other countries and from other schools of thought. Further exploration of these ideas has led to greater understanding of how change occurs in psychoanalysis and has inspired a large literature with a particular focus on technique.
This book uniquely brings together the contemporary use of Klein's ideas in work with adults and with children across different parts of the world and illustrates also some of the ways in which her ideas are being applied to other fields.
About the Editor(s)
Penelope Garvey is a training analyst of the British Psychoanalytical Society. Her first training was as a clinical psychologist and she has worked as a consultant psychotherapist in the NHS. Currently she is in full-time private practice in Devon. She teaches in the UK and abroad, particularly in Ukraine, and has taught the course 'Contributions from Kleinian Psychoanalysts' at the Institute of Psychoanalysis in London. She is a co-author of The New Dictionary of Kleinian Thought (2011).
More titles by Penelope Garvey
Kay Long, PhD, is a psychoanalyst in private practice in New Haven, CT. She is an Associate Clinical Professor in the Psychiatry Department of the Yale School of Medicine and a Training and Supervising Analyst at the Western New England Institute for Psychoanalysis where she teaches courses on Kleinian theory and technique, and serves as Director of the Scholar's Program. She co-leads the Melanie Klein Trust-sponsored Rita Frankiel Memorial Fellowship that takes place jointly in New Haven and New York.
You may also like