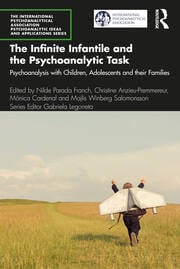 Also by Christine Anzieu-Premmereur
The Infinite Infantile and the Psychoanalytic Task is a fascinating collection of essays that proposes to restore and elaborate original conceptions of the complexity of mental processes in the early years of life until the onset of adolescence, and from then until adulthood.
This book, led by the Committee on Child and Adolescent Psychoanalysis (COCAP) of the International Psychoanalytical Association (IPA), commits to shedding light on new developments in theory and practice in this area.
Each chapter offers an expression of current thinking and clinical work with child and adolescent patients, as well as with their parents, families, and community. The complex contributions by brilliant and erudite scholars offer a fresh take on the existing body of thought on infancy and childhood in psychoanalysis that will challenge and enlighten readers of all backgrounds. Within these perspectives, the development of internal and external bonds is the focus, as well as a consideration of how analysts work in their time with young patients at these key moments of the life cycle.
With their expertise in childhood, the contributors share complex views on the link between analysis with young children and psychoanalysis with adults, making it an essential read for child and adolescent psychoanalysts in practice and in training.
Reviews and Endorsements
"Child analysis is often regarded as an offspring of adult analysis. In some ways this is historically correct. Simultaneously, child analysis often is in the vanguard of technical and theoretical advances which become the foundations of schools of psychoanalytic thought. This fine volume makes it abundantly clear why this is so.  From many different vantage points, play in all of its vicissitudes is examined and the ways in which changing times and changing demands inform the structure of the Spielraum, the play space, and thus the nature of the analytic data. What remains the same is the meaningfulness of the deep play which evolves in a safe enough place with a significant adult other. This is the hallmark of child analysis. This volume is a significant contribution valuable for all child analysts and all adult analysts too." - James Herzog, Adult and Child Psychiatrist and Psychoanalyst; Training and Supervisory Analyst, Boston Psychoanalytic Society and Institute; Supervisory Analyst, Sigmund Freud Institute, Zurich, and Massachusetts Institute for Psychoanalysis, Boston.

"Thanks to its unique inter-regional scope, this fascinating collection of essays proposes today the most updated and complete exploration of child and adolescent issues and treatments in contemporary psychoanalysis, and thereby reopen their exciting intellectual and clinical potential. The many theoretical and clinical contributions by brilliant and erudite scholars offer a fresh take on the babies, children, and teenagers of our difficult time, from the pandemic, the cyberspace to developmental issues and the analyst's work of containment and interpretation. This very accessible book offers rich reflections on child psychoanalysis that will challenge and enlighten readers of all backgrounds, starting from their training and in their following professional evolution up to the highest scientific and professional level." - Stefano Bolognini, Psychiatrist and Training and Supervising Analyst; former President of the Italian Psychoanalytic Society; past-President, IPA; Founder, Inter-Regional Encyclopedic Dictionary of Psychoanalysis; author, Secret Passages: The Theory and Technique of Interpsychic Relations
About the Editor(s)
Nilde Parada Franch is a training analyst and child and adolescent analyst at the Brazilian Psychoanalytic Society of Sao Paulo. She was chair of the IPA COCAP.
Christine Anzieu-Premmereur is a psychiatrist and psychoanalyst in New York City. A member of the Société Psychanalytique de Paris, faculty at the Columbia Psychoanalytic Center; an assistant clinical professor in Psychiatry at Columbia University; the chair of the IPA Committee for Child and Adolescent Psychoanalysis, COCAP; and the Board Secretary of Pulsion, a psychoanalytic institute in New York City.
More titles by Christine Anzieu-Premmereur
Mónica Cardenal is a training analyst at the Buenos Aires Psychoanalytic Association, Argentina. She is a COCAP consultant and Chair of the PACE Committee.
Majlis Winberg Salomonsson is a training and child psychoanalyst at the Swedish Psychoanalytical Association, Stockholm, Sweden.
You may also like