The Infinite Infantile and the Psychoanalytic Task: Psychoanalysis with Children, Adolescents and their Families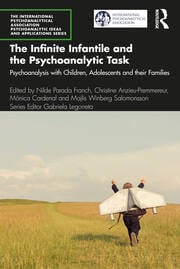 About the Editor(s)
Nilde Parada Franch is a training analyst and child and adolescent analyst at the Brazilian Psychoanalytic Society of Sao Paulo. She was chair of the IPA COCAP.
Christine Anzieu-Premmereur is a psychiatrist and psychoanalyst in New York City. A member of the Société Psychanalytique de Paris, faculty at the Columbia Psychoanalytic Center; an assistant clinical professor in Psychiatry at Columbia University; the chair of the IPA Committee for Child and Adolescent Psychoanalysis, COCAP; and the Board Secretary of Pulsion, a psychoanalytic institute in New York City.
More titles by Christine Anzieu-Premmereur
Mónica Cardenal is a training analyst at the Buenos Aires Psychoanalytic Association, Argentina. She is a COCAP consultant and Chair of the PACE Committee.
Majlis Winberg Salomonsson is a training and child psychoanalyst at the Swedish Psychoanalytical Association, Stockholm, Sweden.