Also by Judith Trowell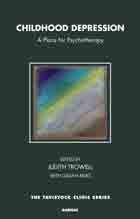 It is widely acknowledged that children need structure, security, stability and attachment to develop and flourish. However, many changes have occurred in society which have changed the traditional family structure, including high divorce rates, increased mobility and women's liberation. This book sets out to explore what has happened to men and to fathers during these changes and transitions. The authors and contributors consider a wide variety of topics, including: the role of the father at different stages of a child's development; the missing father; loss of a father; grandfathers. 256 pages.
About the Author(s)
Judith Trowell is an Honorary Consultant Psychiatrist, Tavistock Clinic, and Professor of Child Mental Health, West Midlands NIMHE/CSIP and University of Worcester. She is a psychoanalyst and child analyst and worked for many years in the NHS as a clinician, trainer, and clinical researcher. Her publications include The Emotional Needs of Young Children and Their Families: Applications of Psychoanalysis in Community Settings (with Marion Bower) and The Importance of Fathers: A Psychoanalytic Re-Evaluation (with Alicia Etchegoyen).
You may also like