The Good Divorce: A Psychoanalyst's Exploration of Separation, Divorce, and Childcare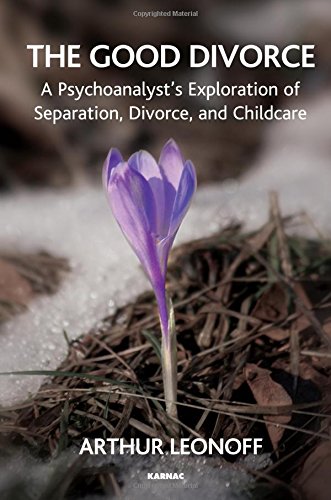 Divorce is a complicated process and not a single event. It has major life implications and must be done right. In this regard, the good divorce is an ethical divorce.
The Good Divorce does not follow the pattern of the ubiquitous self-help genre – over simplified and formulaic. Nevertheless, it is designed to be helpful by providing an in-depth exploration of the separation process, post-divorce adjustment, telling the children, caring for children from infants to teens, decision-making models, pathologies of divorce and, finally, hope and recovery through creating an important space for discovery.
The author is a clinician and the book is written from the well of experience, scholarship and study that professional practice provides. Yet, it is not written academically and is intended for a general as well as professional audience.
The reader will find the helpful inclusion of clinical examples and ample opportunities for reflection and deeper thinking into the many issues that arise in divorce for individuals and families. The essential premise is that the impact of divorce is worsened by the way it is handled rather than something necessarily inherent to the event itself. There is a required ethic, which when followed leads to the good divorce. Knowledge is power in this regard.
Reviews and Endorsements
'This is not just another book on divorce: it is a wonderful read, covering a breadth of relevant topics, illustrated beautifully with case scenarios easily recognized by those who have experienced separation/divorce, those who know couples who have, and professionals. The Good Divorce reminds us of the importance of the ethics of divorce and the need for each parent to strive for greater understanding of what they bring to the family circumstance, not only in terms of their own past, but to the present and most importantly to the future, for the sake of positive outcomes for them and their children. Dr Leonoff offers many useful practical suggestions for parents, their extended family and friends and for legal and mental health professionals. The reader is left with greater understanding, practical take-aways, and most importantly, hope.'
- Barbara Jo Fidler, PhD, registered psychologist, accredited mediator, and author

'This terrific book is a must-read for anyone thinking about, involved in, or recovering from divorce, as well as for anyone who deals with this human catastrophe as a mediator, parent coordinator, lawyer, teacher, daycare worker, or mental health professional. This volume is a distillation of the life's work of a gifted psychoanalyst, who brings not only practical advice based on vast experience but lessons on how to mature as a human being. The most seasoned professional will learn from this moving book. Dr Leonoff has created a brilliant work of deep human understanding and practical advice for a real life drama that can embody either the best or the worst of us all.'
- K. Lynne Moritz, MD, Past-President, American Psychoanalytic Association; Clinical Professor of Neurology and Psychiatry, St. Louis University School of Medicine; Distinguished Life Fellow, American Psychiatric Association

'Dr Arthur Leonoff, a psychologist with a long history of providing help for difficult divorce cases, offers his wisdom about how to have a "good divorce." Divorce results in intense emotions including feelings of grief, guilt, anger and betrayal, but he emphasizes the need for those who are divorcing to reflect on their experiences and develop a new, positive relationship with one another, especially if they have had children together. This book offers wise guidance to parents who are going through this most difficult transition. He also offers many insights for lawyers, judges and other professionals who work with those who are going through this process, emphasizing the need to support them in having an "ethical divorce."'
- Nicholas Bala, law professor, Queen's University, Canada
About the Author(s)
Dr Arthur Leonoff is a psychologist and psychoanalyst in private practice in Ottawa, Canada. He is a Supervising and Training Analyst with the Canadian Psychoanalytic Society and a member of the International Psychoanalytical Association. Apart from his work as an analyst and psychotherapist, Dr Leonoff has a four-decade involvement studying and working in the area of divorce and family adjustment. In this regard, he has served as a court appointed assessor, expert witness, and clinician working to resolve issues related to the care of children and their parents confronting and dealing with divorce with its manifold repercussions. In the capacity of expert, he has provided hundreds of court-mandated assessments over the years and has spoken frequently on the topic of divorce and its impact on children, adults and families. Dr Leonoff is co-author of Custody and Access Assessments: A Practical Guide (Toronto: Carswell, 1996).
You may also like