The Fear of Doing Nothing: Notes of a Young Therapist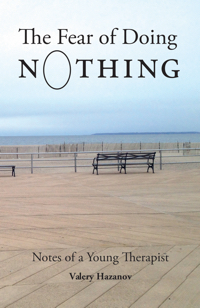 Book Details
Publisher : Sphinx
Published : June 2019
Cover : Paperback
Pages : 204
Category :
Memoir
Category 2 :
Individual Psychotherapy
Catalogue No : 40482
ISBN 13 : 9781912573059
ISBN 10 : 1912573059
Our Customers Average Rating
Read all reviews (1)





In the spirit of Mikhail Bulgakov's A Young Doctor's Notebook and Sandeep Jauhar's Intern, this is a deeply honest, searching examination of psychotherapy based on the experiences of a young sceptical trainee in New York City meeting his first patients.
"Why is psychotherapy different from talking to a friend?" Hazanov asks. "Because generations of self-interested therapists told us so?"
Through ten linked stories, we follow Hazanov as he navigates the maze of psychological theories he's been taught, facing the alarming dissonance between them and the tragic reality of his patients' lives. "How does psychotherapy work? And why do people not get any better?" Frustrated by fancy jargon and unrealistic depictions, Hazanov is on a quest to dispel the myths of psychotherapy and discover its essence. In The Fear of Doing Nothing he illuminates the intimacy, vulnerability and messiness of the therapeutic encounter, providing his answer to the question of what psychotherapy is.
About the Author(s)
Valery Hazanov was born in Moscow and raised in Israel. He received his PhD in clinical psychology at Columbia University and trained at various hospitals and clinics in New York City. Before training as a psychologist, he had worked for several years with juvenile delinquents, managing the Jerusalem district of a national program to stop youth crime. He is a former fellow of the American Psychoanalytic Association and the Columbia Psychoanalytic Center. He lives in Jerusalem.
Customer Reviews
Our customers have given this title an average rating of 5 out of 5 from 1 review(s), add your own review for this title.
Marcy on 08/02/2020 20:38:04





(5 out of 5)
"The Fear of Doing Nothing by Valerie Hazanov … a deeply moving recounting of a young therapist's days as a psychological intern in clinics in New York City. A good read for anyone interested in the human process of living a life in its many forms. In the first chapter, I found myself personally and totally engaged by the author's vulnerability and presence to the story he was telling and to me, the reader. He told a number of poignant stories of people he saw during his couple of years of internship. He told those stories with passion and empathy, but then he shared his reflections about his own barriers and judgments, his impatience at times, his wonderings about best answers and forms of treatment. In the end, I am left with a sense of intimacy and of increased compassion".
You may also like