The Clinic of Disability: Psychoanalytical Approaches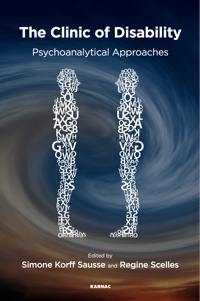 Book Details
Publisher : Routledge
Published : January 2017
Cover : Paperback
Pages : 236
Category :
Psychoanalysis
Category 2 :
Individual Psychotherapy
Catalogue No : 38559
ISBN 13 : 9781782204459
ISBN 10 : 1782204458
This publication brings together eleven articles on the clinical treatment of disability from French researchers in the fields of psychology, anthropology, psychiatry, and philosophy. The authors all have practical experience in the field and most are clinicians sharing a common psychoanalytical epistemology.
The diverse nature of their contributions opens a window onto the mental life of people affected by various deficiencies, be they cognitive, motor, sensory or even multiple, and of those close to them, at all ages.
The work provides English-speaking readers with an insight into the way French authors raise the relevant issues, elaborate theories relating to clinical disability management and implement innovative practices.
Each of the authors develops an original approach, affording recognition to the subjectivity and intersubjectivity of the disabled person and those dear to them, intimating that the disability (as with all human experience) is all about the relation existing between the person concerned and their life story, and also their relations with others - with the society and culture in which the condition emerges and evolves throughout life.
Reviews and Endorsements
'For decades, those struggling with disabilities have remained very much on the margins – often overlooked, ignored, pitied, or mistreated. Happily, mental health professionals have worked hard to place disability at the very centre of clinical discourse, so that everyone may now benefit from the fruits of new developments in the psychological therapies. Simone Korff Sausse and Régine Scelles have gathered a group of some of the most impressive disability psychoanalysts in France and have served up a feast of clinical insight, progressive psychotherapeutic practice and, above all, a sense of hopefulness for the future. This book should occupy a seminal place on the bookshelves of every practitioner of the psychological arts.'
— Professor Brett Kahr, Senior Fellow, Tavistock Relationships, Tavistock Institute of Medical Psychology, London, and founding Trustee and Director of the Institute of Psychotherapy and Disability

'The disability therapy field will be enriched by the translation into English of the long-standing work of French colleagues. A key group of eminent academics led by Professor Simone Korff Sausse and Professor Régine Scelles have transformed the French attitude to intellectual disability by their annual inter-university conferences under the auspices of Séminaire Universitaire International sur la Clinique du Handicap. A profound psychoanalytic and philosophic thread runs through the contributions.'
— Baroness Sheila Hollins, Emeritus Professor of Psychiatry of Disability at St George's University of London and Past President of the Royal College of Psychiatrists and of the British Medical Association

'In this book, outstanding clinical and academic writers present the essence of their original and inspiring psychoanalytic research in and approach to physical and mental disability in an inclusive perspective. Their reflections are embedded in a rich French cultural tradition with a high clinical relevance. A revelation!'
— Johan De Groef, former President of the European Association on Mental Health in Intellectual Disability and the Belgian School for Psychoanalysis
About the Editor(s)
Simone Korff Sausse is a psychologist and psychoanalyst, a member of the Société Psychanalytique de Paris, and emeritus lecturer at the Psychoanalytical Studies Faculty at the University Denis Diderot, Paris. She has conducted studies into the psychoanalytical approach in care for disabled children and their families, and into the creative process in artists. She is a founding member of Séminaire Universitaire International sur la Clinique du Handicap.
Régine Scelles is Professor of Clinical Psychology and Psychopathology at the Paris West University Nanterre La Défense. She works in a department providing early help to disabled children and has considerable experience working in disabled people's own domestic environments. She has published works on the family and multiple disabilities and is a founding member of Séminaire Universitaire International sur la Clinique du Handicap.
You may also like