Teach Me with Pictures: 40 Fun Picture Scripts to Develop Play and Communication Skills in Children on the Autism Spectrum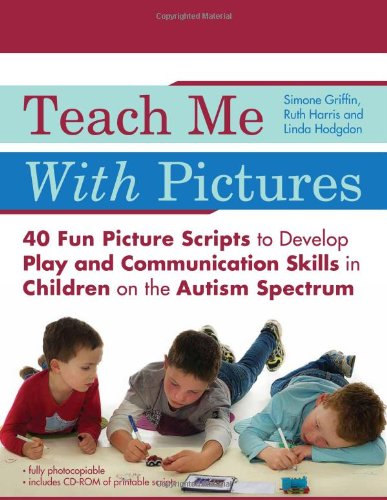 Also by Simone Griffin
An easy-to-use resource for professionals, this book provides fun and practical ideas to help motivate and extend communication and play skills in children with autism with the support of pictures. The book describes how picture scripts can help facilitate play and learning and provides 40 photocopiable scripts across a range of different activities such as drawing, cooking, using construction toys, imaginative play, arts and crafts, and social games. Tasks are presented in small manageable step-by-step picture sequences and support a range of skills including following instructions, increasing independence, comprehension, story-telling and choice-making.
This volume is therefore ideal for special education teachers, early years practitioners, speech and language therapists, and occupational therapists, this will be an excellent tool for any classroom or therapy setting.
About the Author(s)
Simone Griffin is a speech and language therapist and has worked with children with speech, language and communication impairments for the past 12 years in Australia, UK and Canada. She has worked in school, hospital and clinic settings, as well as running her own independent speech therapy practice in Toronto, Canada. She is co-author of Motivate to Communicate and Teach Me with Pictures.
Ruth Harris is a specialist speech and language therapist working with children with autism and complex needs. Ruth is actively involved in an Autism Special Interest Group in London where she co-ordinates international speakers to present at their tri-annual events.
Linda Hodgdon, M.Ed., CCC-SLP is a Speech-Language Pathologist who is internationally known as a pioneer in developing the use of visual strategies to support communication for students with the communication, behavior or social skill challenges that are common in Autism Spectrum Disorders (ASD). She lives in Troy, Michigan.
You may also like