Motivate to Communicate!: 300 Games and Activities for Your Child with Autism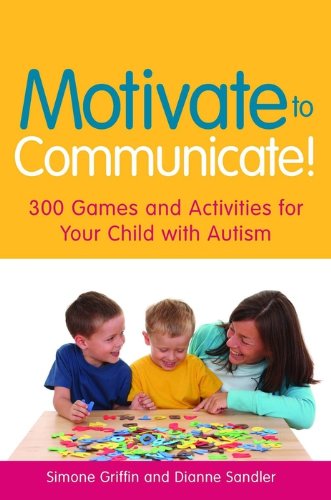 This accessible and practical photocopiable resource is brimming with ideas and guidance for motivating children with autism spectrum disorder or other communication difficulties. The clear and user-friendly format of the book enables quick access to over 300 practical games and activities for using everyday toys and games in a range of settings throughout the day.
For example, if your child likes to pop bubbles with their fingers, perhaps they would also enjoy counting bubbles? Or catching bubbles on a wand, stomping bubbles with their feet or even playing bubble volleyball. The many innovative ideas in the book have developed through over 40 years of clinical and educational experience, and are designed to be fun for both the adult and the child. All the resources mentioned in this book are readily available and can be utilized to develop all levels of communication, from reaching to using pictures to communicate, to increasing the length of the child's verbal communication. Motivate to Communicate! is perfect for supporting professionals, parents and care givers to motivate and maintain motivation with this challenging group.
About the Author(s)
Simone Griffin is a speech and language therapist and has worked with children with speech, language and communication impairments for the past 12 years in Australia, UK and Canada. She has worked in school, hospital and clinic settings, as well as running her own independent speech therapy practice in Toronto, Canada. She is co-author of Motivate to Communicate and Teach Me with Pictures.
Dianne Sandler is currently working as a specialist teacher for inclusion, and has worked with children of all ages with autism and complex needs for 30 years. She has designed a number of toys that are available commercially for children with special needs.
You may also like