Autism Spectrum Disorder: Perspectives from Psychoanalysis and Neuroscience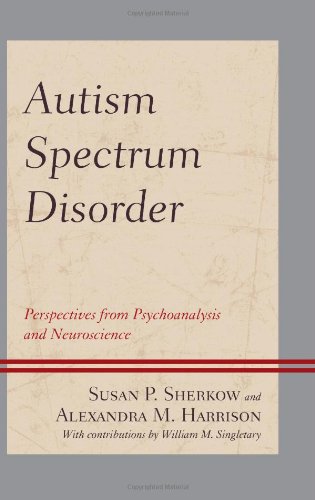 Book Details
Publisher : Jason Aronson
Published : 2013
Cover : Hardback
Pages : 232
Category :
Autism and Aspergers
Category 2 :
Psychoanalysis
Catalogue No : 36399
ISBN 13 : 9780765708625
ISBN 10 : 0765708620
Also by Alexandra M. Harrison
Also by Susan P. Sherkow
Autism Spectrum Disorder: Perspectives from Psychoanalysis is written by practicing child psychoanalysts with extensive experience treating children with autistic spectrum disorders (ASD) and uneven development. The authors bridge the gap between a psychodynamic approach to ASD and burgeoning data from the fields of neurobiology and neurofunction. Based on current research showing neuroplasticity of the brain, the authors posit that treating ASD through intensive engagement of caregiver and child makes possible the successful psychoanalytic treatment of a neurobiological disorder.
To this end, the authors examine both the clinical dynamics of their treatments and the possible impact of the treatment on neurobiological processes. Detailed case studies of children treated by the authors comprise the heart of the book. The cases emphasize the importance of engaging these young children intensively with the social world, first of their caregivers and then their peers, while also helping child and caregiver make sense of the child's nonsense behavior through insight into their inner worlds. The authors explain how and why such treatment works through examining the processes by which infant and caregiver learn to know each other and how a baby comes to know the world. This approach emphasizes the intimate connection between infant and caregiver in forming the emotional, cognitive, attentional, and interpersonal experiences that give a child the ability to make meaning and grow. In addition, this volume presents a selective summary of the neurobiological research in the area of ASD to provide the reader with the related neurobiological and psychological factors. This underscores the thesis that ASD is a potentially reversible neurodevelopmental disorder with experiential and psychological consequences, and lays groundwork for an integrated treatment approach with psychoanalysis at its core.
About the Author(s)
Susan P. Sherkow, MD, is a training and supervising analyst at the Berkshire Psychoanalytic Institute and Society as well as a child supervising analyst at the New York Psychoanalytic Institute. She is also an assistant clinical professor at the Mt. Sinai and Albert Einstein Colleges of Medicine. She has forty years of experience working with autistic children and is founder of the Sherkow Center.
More titles by Susan P. Sherkow
Alexandra M. Harrison, MD, is a training and supervising analyst at the Boston Psychoanalytic Society and Institute. She is the author of the blog supportingchildcaregivers.com.
You may also like