Severe Personality Disorders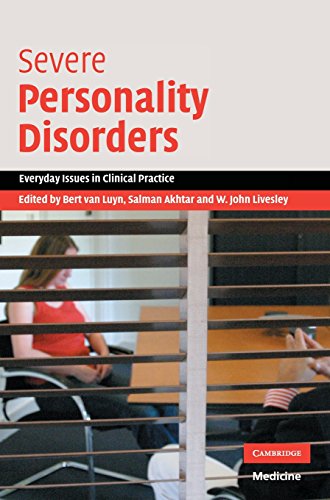 Also by Salman Akhtar
Also by Bert van Luyn

Also by W. John Livesley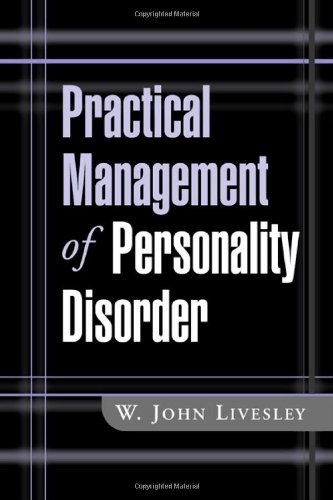 This book is about understanding and managing patients with severe personality disorders. It covers biological, psychoanalytic and cognitive-behavioural approaches and provides a pragmatic guide to best practice, based on the published evidence, where this is available. As well as discussing issues of severity, treatability and the range of appropriate management options, the content explores the common elements of effective interventions and covers early prediction, countertransference, disruptions of the therapeutic alliance, suicidal crises and what to do when dealing with dangerous, refractory and stalking patients. The chapters are authored by an international cast of distinguished investigators and innovators from the field. This is a holistic, practical guide to the treatment of patients with the range of these disorders and it should be read by all the members of the mental health team dealing with this challenging clinical group.
Reviews and Endorsements
Provides an up-to-date overview of topics that are relevant to clinical practice Provides practical tools for the management of both common and difficult clinical cases Consolidates the expertise from a team of international experts

Contents
1. Treatability in severe personality disorders: how far do the science and art of psychotherapy carry us? Michael Stone; 2. The treatment of choice: what method fits whom? John Clarkin; 3. Countertransference: recent developments and technical implications for the treatment of patients with severe personality disorders Otto Kernberg; 4. Beyond management to cure: enhancing the positive dimensions of personality Robert Cloninger; 5. Personality disorders from the perspective of child and adolescent psychiatry Arnold Allertz and Guus van Voorst; 6. Disruptions in the course of psychotherapy and psychoanalysis Salman Akhtar; 7. Managing suicidal crises in patients with severe personality disorders Joel Paris; 8. Borderline personality disorder, day hospitals, and mentalization Anthony Bateman and Peter Fonagy; 9. Pharmacotherapy of severe personality disorders: a critical review Thomas Rinne and Theo Ingenhoven; 10. Severe cases: management of the refractory borderline patient Bert van Luyn; 11. Dangerous cases: when treatment is not an option Reid Meloy and James Reavis; 12. Stalking of therapists Paul Mullen and Rosemary Purcell; 13. Common elements of effective treatments John Livesley.

Contributors
Michael Stone, John Clarkin, Otto Kernberg, Robert Cloninger, Arnold Allertz, Guus van Voorst, Salman Akhtar, Joel Paris, Anthony Bateman, Peter Fonagy, Thomas Rinne, Theo Ingenhoven, Bert van Luyn, Reid Meloy, James Reavis, Paul Mullen, Rosemary Purcell, John Livesley

About the Editor(s)
Salman Akhtar, MD, was born in India and completed his medical and psychiatric education there. Upon arriving in the USA in 1973, he repeated his psychiatric training at the University of Virginia School of Medicine, and then obtained psychoanalytic training from the Philadelphia Psychoanalytic Institute. Currently, he is Professor of Psychiatry at Jefferson Medical College and a training and supervising analyst at the Psychoanalytic Center of Philadelphia. He has authored, edited or co-edited more than 300 publications including books on psychiatry and psychoanalysis and several collections of poetry. He is also a Scholar-in-Residence at the Inter-Act Theatre Company in Philadelphia. Salman Akhtar received the Sigourney Award in 2012.
W. John Livesley, MD, PhD, is Professor Emeritus in the Department of Psychiatry at the University of British Columbia, Canada. His research focuses on the structure, classification, and origins of personality disorder, and on constructing an integrated framework for describing and conceptualizing personality pathology. His clinical interests are directed toward developing a unified approach to treatment. Dr. Livesley is a Fellow of the Royal Society of Canada. He is coeditor of the Journal of Personality Disorders.
You may also like