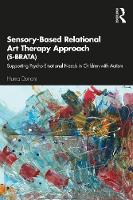 Book Details
Publisher : Routledge
Published : December 2020
Cover : Paperback
Pages : 122
Category :
Autism and Aspergers
Catalogue No : 95463
ISBN 13 : 9780367442262
ISBN 10 : 9780367442
This book bridges art therapy practice and research by presenting sensory-based relational art therapy approach (S-BRATA), a clinically tested framework for working with children with autism spectrum disorder (ASD) that explicitly addresses sensory dysfunction and its impact on impaired attachment.
The author shows how art therapy can facilitate attachment while addressing sensory problems that might underlie impaired attachment shifting the focus from the behavioral to the emotional development of the child with autism. The book additionally challenges traditional aspects of art therapy practice, particularly the focus on the relational aspect of the intervention and not the art product. Not restrictive or prescriptive and with the potential to be adapted to other interventions, S-BRATA provides an explicit framework for doing art therapy with children on the spectrum that opens the scope of art therapy practice and encourages flexibility and adaptation.
Clinicians, students, and parents alike will benefit from the text's clear outline for relational development with individuals on the spectrum and its emphasis on the importance of the psycho-emotional health of a child with ASD.
Reviews and Endorsements
Innovative, informative and transformative, Durrani's research and creation of the model, S-BRATA, is a must read for art therapists working with people on the autism spectrum. - Emily Nolan, DAT, ATR-BC, LPC, assistant professor at Mount Mary University.

Dr. Huma Durrani makes a significant contribution to the knowledge base of Autism Spectrum Disorder with this book. She is a mother, a scientist, and a clinician and has masterfully combined her observational skills and wisdom to develop the S-BRATA. Durrani offers a compassionate presentation of her struggles and trials with her own son, who has ASD, that led to this process. She supports the S-BRATA with strong theory from scientific method, developmental theory, and art therapy. Durrani's S-BRATA brings a valuable treatment and intervention to clinicians working with people with ASD. Brava! - Beth Gonzalez-Dolginko, EdD, LCAT, ATR-BC, author Art Therapy with Adults with Autism Spectrum Disorder.

As a skilled clinician, art therapist, and mother of a grown child on the autism spectrum, Dr. Durrani contributes a critical "missing piece" that will make therapy much more effective: an emotionally attuned relationship that is communicated in the language of the senses. With the S-BRATA model, she demonstrates how art therapists not only introduce a world of creative materials to children with sensory challenges but use them to build a reciprocal, social relationship on the child's terms. This excellent text contributes considerably to autism treatment with clinician-led research written with the empathic knowledge of a parent. As such, it is important reading for clinicians and parents alike, attuning both to the needs of the child-beyond behavioural fixes and toward a real capacity for social and emotional connection. - Lynn Kapitan, PhD, HLM, ATR-BC, professor, Mount Mary University, past-president of AATA, and author of Introduction to Art Therapy Research: Second Edition.
About the Author(s)
Huma Durrani, DAT, is an art therapist and practice-based researcher who owns Coloured Canvas, a specialized community resource for individual and group art therapy for children and adolescents with autism spectrum disorder, psycho-emotional, and behavioural issues in Singapore.
You may also like