Self-Agency in Psychotherapy: Attachment, Autonomy, and Intimacy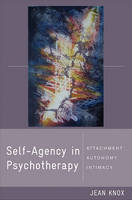 Also by Jean Knox
A discussion of the self, both in and out of therapy.
For each of us, our thoughts, beliefs, desires, expectations, and fantasies constitute our own sense of a unique identity. Here, Jungian and relational psychoanalyst Jean Knox argues that this experience of self-agency is always at the heart of psychological growth and development, and it follows a developmental trajectory that she examines in detail, from the realm of bodily action and reaction in the first few months of life, through the emergence of different levels of agency, to the mature expression of agency in language and metaphor.
Knox makes the case that the achievement of a secure sense of self-agency lies at the heart of any successful psychotherapy, and argues for an updated psychoanalytic therapy rooted in a developmental and intersubjective approach. Drawing on a range of therapeutic disciplinesincluding interpersonal neurobiology, attachment theory, and developmental researchshe proposes an integrated and flexible clinical approach that is based on the actual interpersonal agency of analyst and patient, rather than any one specific theory about the human unconscious being imposed on the patient by the analysts interpretations. Detailed clinical examples explore this approach. Self-Agency in Psychotherapy deftly balances theory and practice, offering practical applications for groundbreaking research on self-agency.
Reviews and Endorsements
'This book will surely become a classic! It is a remarkable, groundbreaking, sweeping synthesis of the best research available on the formation of the mind applied to the art of psychotherapy. In masterly fashion, Knox not only takes the reader through the developmental evolution of self-agency, but also manages to challenge and empower each of us to claim the various levels of agency by which we live and work.'
- Joe Cambray, PhD, President, International Association for Analytic Psychology

'Self-Agency in Psychotherapy is an amazing integration of developmental research and neuroscience with clinical theory and practice. Knox has written a fascinating and important book.'
- Beatrice Beebe, PhD, Clinical Professor of Psychology in Psychiatry, Columbia University

'Knox has given us gold. At once accessible and erudite, Self-Agency in Psychotherapy points the way to new conceptions of mind and of interaction. Spanning far-ranging literatures of psychoanalysis, neurobiology, infant research, and philosophy, Knox weaves an argument that self-agency is at the nexus of cultural, bodily and psychic forces. This volume represents cutting-edge interpersonal neurobiology, thought through the lens of a practicing analytic clinician.'
- Bruce Reis, PhD, New York University Postdoctoral Program in Psychotherapy and Psychoanalysis
About the Author(s)
Jean Knox is widely known as an expert on attachment theory and analytical psychology. She lives in England.
You may also like