Science, Systems and Psychoanalysis

Book Details
Publisher : Routledge
Published : 1992
Cover : Paperback
Pages : 292
Category :
Psychoanalysis
Catalogue No : 6277
ISBN 13 : 9781855750364
ISBN 10 : 1855750368
Also by Robert Langs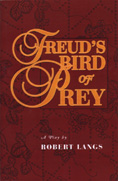 This book has been written for a broad audience. It is addressed to anyone who is at all concerned with a scientific grounding for the art of psychotherapy and psychoanalysis, and for the understanding of the human mind and its outputs via emotionally charged communication. The book begins by establishing the need for a formal science of psychoanalysis and then presents the distinctive features of the communicative approach that moved it towards the creation of that science.
Reviews and Endorsements
'Robert Langs has established himself through his contributions over the last score of years as a major contributor to the disciplines of psychoanalysis and psychotherapy. He has been one of the prominent advocates of the bi-personal emphasize - his view of the field of interaction arising between therapist and patient as a "bi-personal field" is well known. Those who have followed the development of his ideas over the years will not be surprised by the line of thinking in his new work, since it is essentially an attempt to systematize and articulate his basic clinical insights in a more scientifically consistent and acceptable way.

The contribution here should be saluted and respected as it enters the field of dispute and challenge. The effort to clarify the database and to rationalize its implementation in scientifically and methodologically acceptable terms is both courageous and praiseworthy.'
- From the Foreword by W.W. Meissner

'Bob Langs, in this new book aims to take psychoanalytic enterprise a step further in its development into a mature science by adding measurement and a more formal (i.e. quantative and perhaps logical) systems approach. How well he succeeds, I leave readers to judge for themselves. For my part, I am sufficiently impressed to accept his invitation to write this introduction.'
- Karl H. Pribram, from the Introduction
About the Author(s)
Robert Langs, M.D., is well known as the author of many books on the subject of psychoanalytic psychotherapy, including The Technique of Psychoanalytic Psychotherapy (2 volumes), Psychotherapy: A Basic Text , A Primer of Psychotherapy and Decoding Your Dreams. He is currently Executive Director at the Program for Psychoanalytic Psychotherapy at the Beth Israel Medical Center, New York; Clinical Professor with the Department of Psychiatry, Mt. Sinai Hospital and School of Medicine, New York; and Visiting Clinical Investigator at the Nathan S. Kline Institute for Psychiatric Research, New York.
You may also like