Doing Supervision and Being Supervised

Book Details
Publisher : Routledge
Published : 1994
Cover : Paperback
Pages : 288
Category :
Psychoanalysis
Category 2 :
Supervision
Catalogue No : 1637
ISBN 13 : 9781855750609
ISBN 10 : 1855750600
Also by Robert Langs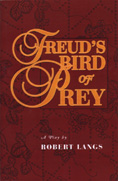 There is always a lively interest in the supervisory process and its explication. Courses in supervision abound and the critical role of supervision in becoming a psychotherapist is widely acknowledged. It is for this reason that this book aims to present the essentials of supervision, establish validated principles of teaching and learning, define a series of optimal supervisory precepts, consider some of the basic issues in this sometimes difficult arena, explore the supervisee's concerns as the student, and address the future of supervisory work.
Supervision should be principled and properly framed, sufficiently consistent and well defined to assure the supervisee the best possible supervisory experience and the supervisor a situation with as little possibility of crisis and untoward reactions, and as much reward as possible.
This book is dedicated to both teachers and students: to their growth, maturation and ultimately to better psychotherapy for their patients.
Reviews and Endorsements
'Dr Langs has presented a stunning and original work on supervision of psychoanalytic psychotherapy which, in my opinion, should become a standard textbook and a classic in its field. Not only is it the most comprehensive book thus far written on supervision, it also includes important topics that have been neglected or overlooked in the writings of others.'
- From the Foreword by Prof. Theo L. Dorpat, MD
About the Author(s)
Robert Langs, M.D., is well known as the author of many books on the subject of psychoanalytic psychotherapy, including The Technique of Psychoanalytic Psychotherapy (2 volumes), Psychotherapy: A Basic Text , A Primer of Psychotherapy and Decoding Your Dreams. He is currently Executive Director at the Program for Psychoanalytic Psychotherapy at the Beth Israel Medical Center, New York; Clinical Professor with the Department of Psychiatry, Mt. Sinai Hospital and School of Medicine, New York; and Visiting Clinical Investigator at the Nathan S. Kline Institute for Psychiatric Research, New York.
You may also like