Clinical Workbook for Psychotherapists
Book Details
Publisher : Routledge
Published : February 2002
Cover : Paperback
Pages : 528
Category :
Psychoanalysis
Catalogue No : 2340
ISBN 13 : 9781855750043
ISBN 10 : 185575004X
Also by Robert Langs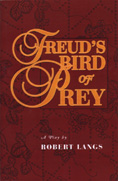 'This book is a one-volume condensation of a previously published three-volume set of workbooks. I have preserved the workbook format and have tried to select the most cogent clinical vignettes available in the original books to convey the essence of clinical (communicative) listening, formulating, intervening and validating.
'This is a practice book in several senses; it stresses the details of sound clinical practice; it invites the reader to engage in exercises related to these practices as he or she goes through the volume; and it offers practice in techniques that are essential to sound psychotherapy. The hope is to make psychoanalytically orientated communicative technique real and accessible to the reader-practitioner in an active and immediately meaningful way.'
- Dr Langs, from his Preface
About the Author(s)
Robert Langs, M.D., is well known as the author of many books on the subject of psychoanalytic psychotherapy, including The Technique of Psychoanalytic Psychotherapy (2 volumes), Psychotherapy: A Basic Text , A Primer of Psychotherapy and Decoding Your Dreams. He is currently Executive Director at the Program for Psychoanalytic Psychotherapy at the Beth Israel Medical Center, New York; Clinical Professor with the Department of Psychiatry, Mt. Sinai Hospital and School of Medicine, New York; and Visiting Clinical Investigator at the Nathan S. Kline Institute for Psychiatric Research, New York.
You may also like