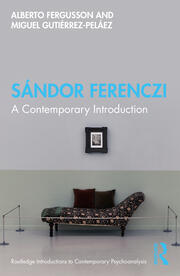 Book Details
Publisher : Routledge
Published : February 2022
Cover : Paperback
Pages : 126
Category :
Psychoanalysis
Catalogue No : 96280
ISBN 13 : 9780367426767
ISBN 10 : 0367426765
Also by Miguel Gutierrez-Pelaez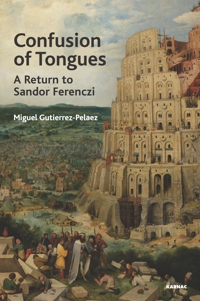 This book aims to present an up-to-date introduction and critical study of one of the most important psychoanalysts of all times, Sandor Ferenczi.
The book presents Ferenczi as a person; his discovery of psychoanalysis and his relationship with Freud; the theoretical and clinical novelties he introduced to psychoanalysis; his deep political and social commitment, striving for the democratization of psychoanalysis; and the great relevance of his thought and perspective for the future. It also talks about his repression in the history of psychoanalysis as well as his influence in the following generations of psychoanalysts. The reader will be presented with the most relevant historical milestones and concepts, with new insights regarding some of Ferenczi's most fundamental ideas (such as his trauma theory, his technical innovations or his developments regarding the end of analysis), as well as an informed viewpoint of his legacy, the contemporary readings of his work and the institutions and associations that continue following the path traced by l'enfant terrible of psychoanalysis.
This book will be of interest both for the novel reader who has had none or scarce contact with the person and/or work of Sandor Ferenczi, as well as to the psychoanalysts, clinicians and scholars, who have a deeper contact and understanding of the work of the Hungarian analyst.
About the Author(s)
Professor Miguel Gutiérrez-Peláez, PhD, is Director of the Psychology Program of the School of Medicine and Health Sciences of the Universidad del Rosario, where he is also editor of the journal Avances en Psicología Latinoamericana and is member of the Center for Psychosocial Studies (CEPSO). He is member of the Interdisciplinary study group of Peace and Conflict (JANUS) at the Universidad del Rosario. Dr Gutiérrez-Peláez is a psychologist from the Pontificia Universidad Javeriana (PUJ) and obtained his MA in Psyschoanalysis and PhD in Psychology from the Universidad de Buenos Aires (UBA). He is a member of the World Association of Psychoanalysis (AMP) and the New Lacanian School (NEL). In addition, he is Secretary for Colombia of the World Association of Psychosocial Rehabilitation (WAPR). He has taught in different universities in Colombia and Argentina and worked as a clinician in different mental health institutions in both countries. He has worked with Colombian soldiers and police officers who fought in war zones, as well as with other persons with psychological difficulties derived from the armed conflict. He is the author of various publications in indexed journals on issues related to trauma, art and mental illness, and psychosocial interventions in armed conflict scenarios.
You may also like