Relational Transactional Analysis: Principles in Practice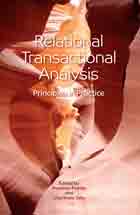 Also by Charlotte Sills
'Through different voices and styles of contributions, including papers, edited talks and panel discussion, this collection explores and applies the principles of relational transactional analysis. It sets them in social, cultural and political contexts, and considers a number of important implications of this particular relational turn in psychotherapy. The book advances relational transactional analyses and, in doing so, reflects the creativity and vibrancy of contemporary TA. The editors have skilfully brought together different generations of TA practitioners in an accessible and stimulating volume. I commend the editors and highly recommend the book.'
- Dr Keith Tudor, author of a number of books and co-author of the article "Co-creative transactional analysis" in the Transactional Analysis Journal. He is Associate Professor, Auckland University of Technology, Auckland, Aotearoa, New Zealand.
About the Editor(s)
Heather Fowlie, MA, MSc (psychotherapy), teaching and supervising transactional analyst, Dip. in supervision, is UKCP registered. She is head of the Transactional Analysis department at the Metanoia Institute in London. She works in private practice in South West London as a full-time psychotherapist, supervisor, and trainer, and is particularly interested in integrating other models of psychotherapy, especially object relations within a relational approach to transactional analysis. She is a founder member of the International Association of Relational Transactional Analysis (IARTA).
Charlotte Sills, MA, MSc, teaching and supervising transactional analyst, is a psychotherapist and supervisor in private practice, a senior tutor at Metanoia Institute, and visiting professor at Middlesex University. She has published widely in the field of counselling and psychotherapy including, with Helena Hargaden, Transactional Analysis: A Relational Perspective, and An Introduction to Transactional Analysis with Phil Lapworth.
You may also like