Queering Psychotherapy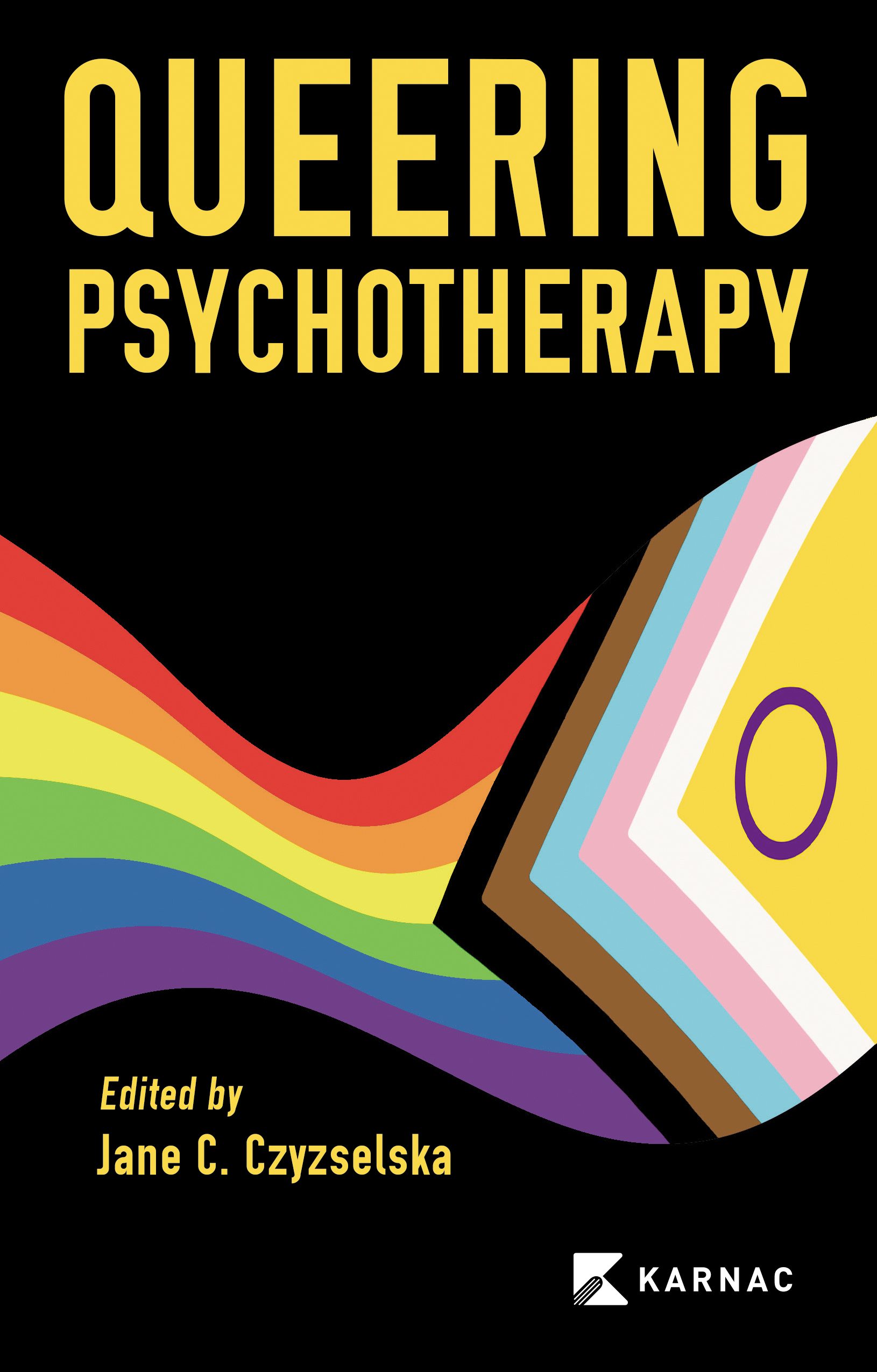 Book Details
Publisher : Karnac Books
Published : October 2022
Cover : Paperback
Pages : 320
Category :
Individual Psychotherapy
Catalogue No : 96320
ISBN 13 : 9781913494735
ISBN 10 : 9781913494
LGBTIQ+ people are more likely than cisgender and heterosexual individuals to suffer with mental health issues, yet often have poorer therapeutic outcomes. Mainstream Eurocentric psychotherapeutic theories, developed largely by heterosexual, cisgender and white theorists, tend to see LGBTIQ+ as a singular group through this "othered" lens. Despite the undeniable value offered by many of these theories, they and those who use them – queer therapists included – can often pathologize, marginalize, misunderstand and diminish the flourishing and diversity of queer experience.
In this volume, editor and psychotherapist Jane C. Czyzselska speaks with practitioners and clients from diverse modalities and lived experiences, exploring and rethinking some of the unique challenges encountered in a world that continues to marginalize queer lives.
The contributors to Queering Psychotherapy present key insights and practical advice in a dynamic conversational format, providing intimate access to therapists' personal and professional knowledge and reflections. This book is an invaluable training in itself.
Reviews and Endorsements
'The discipline of psychotherapy is unavoidably implicated in the structure of the society in which it operates. The only way to ensure it doesn't replicate embedded social inequities and harms is for it regularly subject itself to intense critical examination from a wide diversity of perspectives. Queering Psychotherapy is a shining example of this kind of inquiry and should be a compulsory read for anyone in the field, however they choose to identify.'
Dr. Aaron Balick, Psychotherapist and author

'The space of therapy can feel claustrophobic. If you're queer or trans and working with a heteronormative therapist, the room itself can feel airless especially when you are trying to establish a workable relationship and understanding about your identity. An airless room fraught with misunderstandings. This book is a reservoir of information, knowledge and professional understandings which seek to widen out that space into a comfortable queer landscape. Invaluable.'
Juno Roche – Writer

'Queering Psychotherapy is a dynamic collection featuring important, intersectional perspectives. It tackles big topics, such as trans desire, lesbian erasure and navigating shame, with nuance and care. Brimming with powerful insights, this book is a vital resource for professionals and fascinating reading material for us all.'
Roxy Bourdillon, editor-in-chief of DIVA magazine

'A stirring and necessary contribution to the field! In this liminal time, when a new generation of clients and students are calling psychotherapists and training institutions to accountability, Queering Psychotherapy can offer a compelling compass for reorienting and reimagining our field. The collaborative format of the book embodies the message vividly, by calling us all in, to critically and heartfully join the creative project of querying and queering the underpinning of our theories and practices.'
Shoshi Asheri, Psychotherapist, educator and creative collaborator at Aashna UK

'This excellent book takes an intersectional approach in the understanding of psychotherapy through a queer lens and is essential reading, therefore for those who are from the LGBTQ+ community or are working within said communities such as myself. That this book has been brave enough to include such a wide range of voices and perspectives, angles, cultures, and races is a testament to just how psychotherapy can come together when it steps outside of the heteronormative, able-bodied, white, middle class constraints within which it has been entangled almost since its inception. This book is essential reading and needs to be studied on courses around the country.'
Dr Dwight Turner Psychotherapist, Supervisor and Workshop Facilitator

'Passionate, thoughtful and opens a much-needed discussion with the mainstream therapeutic community who often do not understand the needs and lives of LGBTQI+ clients.'
Matthew Todd, author of Straight Jacket

'The open dialogues resulting from Czyzselska's invitation weave through a broad range of intersecting and intersectional contemporary psychotherapeutic topics from the perspectives of clinicians [...] The collection also gives important space to conversations with clinicians who identify as and work with trans, nonbinary, gender expansive, and intersex people.'
Harriet Mossop , University of Essex, UK, Feminism & Psychology, 1–5, 2023

'In 16 rich chapters, the reader is stimulated, challenged and cajoled to consider the lived realities of queer experiences [...] This book tasks us all to think about our positions and privileges and to question the status quo.'
Jeanine Connor, psychodynamic psychotherapist, The Bookshelf

'Queering Psychotherapy invites us to think deeply about intricate subjects in nuanced ways. [...] This book gifts us by showcasing how healing the work of a certified sexological bodyworker can be, how it is easy to unduly pathologise sex workers, intersex people's lives from their own voice, how to live and work within the queer community, and a phenomenal new take on supervision reframed as 'supra-vision'. Many of those topics are not written about enough, and certainly not in the depth that this book offers. It is a highly recommended read for psychotherapists at all levels.'
Silva Neves, UKCP-registered and COSRT-accredited psychotherapist, Pink Therapy clinical associate, and author, New Psychotherapist, Winter 2022/23

Table of Contents
About the Authors
Acknowledgements

Introduction
Jane Chance Czyzselska

1. Queering the Black feminist psychoanalytic
Dr Gail Lewis

2. On working with trans and gender-expansive clients
Ellis J. Johnson

3. Queer shame: notes on becoming an all-embracing mind
Robert Downes

4. How do therapists unwittingly reinforce normativity?
Meg-John Barker

5. Lesbian erasure from Freud's lesbian patient to the present
Jane Chance Czyzselska

6. Meaning-making with queer clients
Charles Neal

7. Queer sex and relationships
Amanda Middleton

8. Trans desire and embodiment
Jake Yearsley and Beck Thom

9. Working with queer sex workers
Karen Pollock

10. Don't panic! Queering the child
Paul Harris, Anthea Benjamin and Neil Young

11. Working with trans children and young people in therapy
Kris Black and Igi Moon

12. Film summary: A Normal Girl
Valentino Vecchietti

13. The truth that's denied: psychotherapy with LGBTIQ+ clients who identify as intersex
Jane Chance Czyzselska

14. Toward an intersectional therapy training
Sabah Choudrey

15. Navigating dual relationships
Dominic Davies

16. Emotional diaspora
Bay De Veen

Glossary
Bibliography
Index

About the Editor(s)
Jane C.Czyzselska (they/she) is a relational integrative psychotherapist and counsellor in private practice. They are also a journalist, a writer, and a trustee of The Relational School.

You may also like