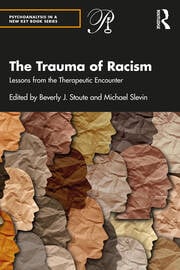 Book Details
Publisher : Routledge
Published : October 2022
Cover : Paperback
Pages : 370
Category :
Psychoanalysis
Category 2 :
Trauma and Violence
Catalogue No : 96862
ISBN 13 : 9781032247472
ISBN 10 : 9781032247
The Trauma of Racism: Lessons from the Therapeutic Encounter is a pioneering reflection on the psychology of racism and its impact on us all. With the intimacy of personal experience and depth of analytic exposition, the authors expose racism's searing effects on personal, clinical, and community interactions while providing pathways for change.
This book asserts that the insights and practice of psychoanalysis, applied behind the couch and in the community, create unique opportunities for change. Essayists address racially derived mental health inequities, including distortions, projections, stereotypes, and historical tropes. The Trauma of Racism invites personal and clinical exploration of how people learn, confront, and re-learn views on race. Narratives of the loss and grief and the burdens of slavery that crisscross the African American community are present. They are complemented by those of the psychological burdens and inspired acts of personal responsibility that respond to unequal access to wealth and opportunity along racial lines. In moving accounts portraying experiences of racism and access to privilege, the authors grapple with the possibilities of mutual understanding.
Readers concerned about racism will find themselves challenged and engaged. This book is intended for the general reader and for clinicians at any career stage. Likewise, scholars in the humanities, law, education, or public policy will find new opportunities to reflect and to act.
Reviews and Endorsements
'The authors offer a fresh, invigorating, and much-needed psychoanalytic treatise on race, race relations, and racism. The contributors that they have gathered represent multiple perspectives, diverse ethnocultural backgrounds, and different nationalities. Together these highly informed and somber voices create a moving chorus of cultural anthropology, psychoanalytic metapsychology, developmental studies, community politics, and, above all, clinical praxis.' - Salman Akhtar, professor of Psychiatry, Jefferson Medical College, training and supervising analyst, Psychoanalytic Center of Philadelphia.

'This remarkable new book is a long-overdue treatment of a subject that has historically been neglected in psychotherapeutic and psychoanalytic discourse. I was enlightened by the brilliant insights from colleagues who provided new ways of understanding racism and the challenges we face. Readers will learn a great deal of practical and clinical information, as well as becoming more familiar with the tragic history of racism.' - Glen O. Gabbard, clinical professor of Psychiatry, Baylor College of Medicine.

'This book is an important and thoughtful guide to one of the more urgent questions facing psychotherapeutic practice today―how to address the individual psychological implications and effects of larger structural biases, inequities, and prejudices. The book deftly connects psychological frameworks with historical and cultural ones. It is a vital resource for clinicians and citizens seeking to understand and address legacies of historical trauma.' - Jonathan M. Metzl, director, Center for Medicine, Health, and Society and Frederick B. Rentschler II endowed professor, Vanderbilt University School of Medicine.

'Psychoanalysis gave us multiple lenses for illuminating complex human behavior through its metapsychology of the individual. In addition, Freud, as a social and cultural theorist, gave us a quintessentially powerful means of coming face to face with the tragic view of how humans are eminently capable of treating one another. These two projects of psychoanalysis converge in The Trauma of Racism: Lessons from the Therapeutic Encounter. Here, Beverly Stoute and Michael Slevin provide a masterfully designed and edited catalogue of accounts of the trauma of distorting the individual ego and endangering generations of collective and degraded human lives in our fractured world ripped by racism and its manifold systemic pathways of racialization. All scholars committed to understanding and transforming the inner world and its external fields of reference to the outside, and in reverse, how psychologically charged external fields of reference activate inner world drama, will benefit immensely from this tome. Now, hopefully, we can teach and study race in earnest without the facile charge of being polemic.' - Maurice Apprey, professor of Psychiatry, is a member of the Academy of Distinguished Educators, School of Medicine, and dean of African American Affairs, University of Virginia.

'This collection by Beverly Stoute and Michael Slevin is required reading for everyone practicing, supervising, or teaching the psychodynamic tradition. The authors provide the deep, subtle clinical thinking and practice wisdom on racism that until now has been lacking. But the reach of the book goes beyond clinical practice. Racism is searing. Its history shapes each of us regardless of racial identity. Its impact on the psyches of everyone in the U.S. is profound and traumatic. Anyone willing to look inward at themselves or outward at our society through the lens of racism could profit from this book. The authors' authenticity as they share critical reflections gained through work in the therapeutic encounter is a strength of a book that is a joy to read.' - Joanne Corbin, associate dean for Academic Affairs, University of Connecticut School of Social Work, former director, Smith College School for Social Work doctoral program.
About the Editor(s)
Beverly J. Stoute, M.D., is a child, adolescent, and adult psychiatrist and psychoanalyst, a training and supervising analyst at the Emory University Psychoanalytic Institute, and a child and adolescent supervising analyst at the New York Psychoanalytic Society & Institute. She teaches on the faculty of multiple training programs and is an internationally recognized author, speaker, educator, clinician and organizational consultant ​in private practice in Atlanta, Georgia.
Michael Slevin, MSW, a member of the Washington Baltimore Center for Psychoanalysis, is in private practice in Baltimore, Maryland. He is a writer and editor on psychoanalytic issues. He has been active in bringing psychoanalytic ideas and practice into contexts outside the consulting room, to less privileged communities, and into political decision making.
You may also like