Psychotherapy with Severely Deprived Children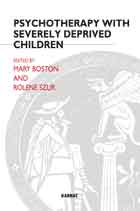 Book Details
Publisher : Routledge
Published : 1990
Cover : Paperback
Pages : 160
Category :
Child and Adolescent Studies
Catalogue No : 5968
ISBN 13 : 9780946439973
ISBN 10 : 0946439974
Also by Mary Boston
Also by Rolene Szur
This study describes the experience of severely deprived children referred for individual psychoanalytic psychotherapy at the Tavistock Clinic in London, and at other clinics and schools. Most were living in children's homes, all came from chaotic and disrupted families, and many had been abused or neglected. Children from such backgrounds have previously been considered unsuitable for psychotherapy, and the theoretical and technical issues arising from their treatment are discussed here, and detailed case material is presented.
There is a high rate of emotional and behavioral disturbance among children in community care. The experiences of the therapists struggling, often painfully, to establish contact and communication with these young people, who have been hurt and disillusioned by life, provide illuminating material on the children's perceptions of their lives. This book clearly demonstrates the need for and the capacity to respond to treatment, and it provides insights which are of relevance to all who are in close contact with such children.
With contributions from Pamela Berse, Mary Boston, Ronald S. Britton, Helen Carr, Elizabeth da Rocha Barros, Maristella Fontana, Gianna Henry, Eva Holmes, Shirley Hoxter, Joan Hutten, Ann Kaplan, Gabriella Grauso Malliani, Lisa Miller, Sheila Miller, Michael Morice, Elizabeth Oliver-Bellasis, Alan Shuttleworth, Judy Shuttleworth, Rolene Szur, Brian Truckle and Gillian Woodman-Smith.
About the Editor(s)
Mary Boston was a child psychotherapist and senior tutor at the Tavistock Clinic. She worked formerly at the Hospital for Sick Children, Great Ormond Street, where she was particularly interested in work with pre-school children, and has written on current research in child development. She was co-editor with Dilys Daws of The Child Psychotherapist and the Problems of Young People (1977).
Rolene Szur was the principle child psychotherapist at the Hospital for Sick Children, Great Ormond Street, and a senior tutor at the Tavistock Clinic. At the hospital she worked in a family consultation team concerned with problems of child abuse and the issues of child care and custody. She was concerned with with the emotional welfare of patients in intensive care units and other paediatric wards.
You may also like