Extending Horizons: Psychoanalytic Psychotherapy with Children, Adolescents and Families

Also by Rolene Szur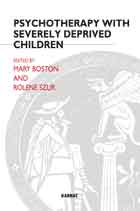 Extending Horizons presents a wide-ranging collection of papers by leading practitioners in the field of analytic psychotherapy with children and young people, surveying recent developments in technique and theory; the application of the discipline to special areas of work; and its integration, in certain contexts, with other systems such as family and group psychotherapy.

From its origins in the traditional 'one-to-one relationship' between therapist and patient, as exemplified in the pioneering work of Anna Freud, Melanie Klein and Margaret Lowenfeld, the contributors to this present volume demonstrate how child and adolescent psychotherapy has advanced its frontiers in recent years to deal with specific areas of concern, such as child sexual abuse and mental or physical disability, and adapted itself - sometimes, initially, as a result of pressures imposed by the lack of adequate resources - to applications in wider settings where multi-disciplinary factors are engaged and the 'one-to-one relationship' is waived in preference to parent/child, family or group modes of treatment.

Further contributions touch on topics such as childhood illness and bereavement, the psychotherapy of infancy, work with suicidal adolescents, ethnic minorities, and problems related to adoption. A final section presents fresh thinking in terms of theoretical approaches and original designs for undertaking further research.
About the Editor(s)
Rolene Szur was the principle child psychotherapist at the Hospital for Sick Children, Great Ormond Street, and a senior tutor at the Tavistock Clinic. At the hospital she worked in a family consultation team concerned with problems of child abuse and the issues of child care and custody. She was concerned with with the emotional welfare of patients in intensive care units and other paediatric wards.
You may also like