Psychodynamic Self Psychology in the Treatment of Anorexia and Bulimia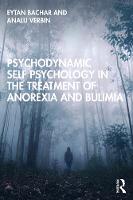 This book presents an implementation of psychodynamic self psychology in the treatment of anorexia nervosa and bulimia nervosa, using a theoretical and therapeutic approach to examine the way that patients turn to food consumption or avoidance in order to supply needs they do not believe can be provided by human beings.
The book starts with an overview of self psychology, presenting both the theory of self psychology and its specific application for the etiology and treatment of eating disorders. Featuring contributions from eating disorder professionals, the book then integrates this theory with 16 compelling case studies to explore how the eating-disordered patient is scared to take up space in a society that encourages precisely that.
Professionals in the field of psychotherapy for eating disorders, as well as the entire community of psychotherapists, will benefit from the empirical capability of the theory to predict the development as well as remission from eating disorders.
About the Author(s)
Eytan Bachar, PhD, is Head Psychologist of Hadassah University Medical Center in Jerusalem, Israel; Associate Professor at the Hebrew University of Jerusalem and former chairman of the Israeli Association of Eating Disorders.
Analu Verbin, PhD, is a Clinical Psychologist, working in a private practice in Tel Aviv, and a former member of the executive board of the Israeli Association of Eating Disorders.
You may also like