Psychoanalysis Online 4: Teleanalytic Practice, Teaching, and Clinical Research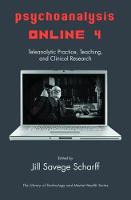 Book Details
Publisher : Routledge
Published : October 2018
Cover : Paperback
Pages : 224
Category :
Psychoanalysis
Catalogue No : 93870
ISBN 13 : 9781138312425
ISBN 10 : 9781138312
Also by Jill Savege Scharff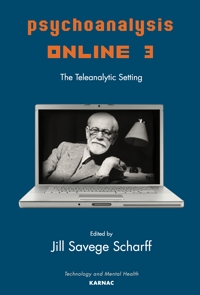 Psychoanalysis Online 4: Teleanalytic Practice, Teaching, and Clinical Research brings a systematic, qualitative research perspective to the question of the effectiveness of teletherapy, teleanalysis, and teleteaching. It suggests that, contrary to some traditional arguments, effective treatment, teaching, and supervision can take place remotely; that affect and imagination are more important than physical presence.
Providing theories of therapeutic action as well as philosophical reflections, the book features examples of online clinical cases, including crisis interventions by email, and aims to stimulate openness to innovation, responsible process and review. Each contributor presents their clinical qualitative research and survey study findings. The Bernardi Three-Level Model, developed for assessing therapeutic change in the traditional analytic setting, is applied to the study of teleanalysis with different patients. It is found that, in videoconference or even in email communication, the sense of closeness in the therapeutic encounter does not depend on physical proximity but on integrity and commitment.
The book concludes with research findings on the effectiveness of videoconference compared to in-the-classroom settings for teaching psychodynamics, supervising psychotherapy, and conducting psychotherapy with Chinese students. It will be of great interest to a variety of professionals and researchers who practise remotely, with particular relevance for those situated in the fields of psychoanalysis and psychotherapy.
About the Author(s)
Jill Savege Scharff, MD, FABP (USA), is Co-founder of the International Psychotherapy Institute; Supervising Analyst at the International Institute for Psychoanalytic Training; Clinical Professor of Psychiatry at Georgetown University; and psychoanalyst and psychotherapist with individuals, couples and families in Chevy Chase, Maryland. Jill is an author, editor, and series editor of many books, several co-authored with David E. Scharff.
You may also like