Melanie Klein Revisited: Pioneer and Revolutionary in the Psychoanalysis of Young Children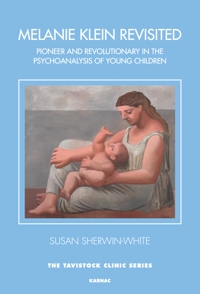 Also by Susan Sherwin-White
While much writing has been devoted, predominantly by contemporary Kleinian adult psychoanalysts, to the Kleinian and post Kleinian development of Klein's work, comparatively little has recently been written about the ongoing importance and character of Klein's clinical work for contemporary psychoanalytic psychotherapy or analysis with very small children (2 – 6 year olds). Little attention now seems to be paid to the revolutionary character of her work from the start (in the early 1920s) with this age group and its challenges, still relevant today, or to her recognition of the importance of mother-infant relations in the period long before World War II brought investigation into and understanding of problems of attachment, separation and loss. This book addresses these issues and re-explores Klein's work in these (and other) areas.
This book is concerned primarily with Klein's work with pre-latency children and aims to give these small children more of the voice today that Melanie Klein herself discovered. Among important new sources are the treatment notes published in Claudia Frank's seminal book Melanie Klein in Berlin (trans. 2009, Routledge), a rare exception to the current trend of publication for those interested in Klein's child work.
This book is relevant to professionals working in a wide range of contexts from a range of professional bases, as well as child psychoanalytic psychotherapists and analysts. It will also be of interest to those concerned with the history and development of child psychoanalysis and especially those interested in Melanie Klein's work in the UK and abroad.
Reviews and Endorsements
'Melanie Klein Revisited focuses on Klein's most revolutionary work, her bold inquiry into primitive states of mind in the infant and young child, those which are far beyond the reach of conscious memory. This book brings the reader's attention back in close focus to Klein's work with little children and the theoretical conclusions she drew from it. Here Susan Sherwin-White deploys her scholarly capacity on behalf of child analysts and child psychotherapists, as well as all those with an interest in psychoanalytic thinking. Her account of Klein's thought is based upon investigation not only of Klein's published work and what is known about Klein's life, but also on the archive held at the Wellcome Library for the History of Medicine. Light from these original researches constantly illuminates the known ground of Klein's most controversial works. This book helps us realise afresh the courage of Klein's deductions and the fact that she looked at the baby and the small child as no-one had ever done before. While never losing her foothold in non-judgemental compassion, Klein's gaze was unsqueamish and unflinching – as is the present author's. It is also possible for Sherwin-White to bring a modern and revealing clinical perspective to Klein's cases. Klein's writing, alarming in the 1920s, is, even now, startling to the newcomer.'
— Lisa Miller, Consultant Child & Adolescent Psychotherapist, Tavistock & Portman NHS Foundation Trust

'This book addresses in a most compelling and readable way Melanie Klein's groundbreaking work with very small children, setting this in a biographical and historical context within psychoanalysis. Klein's recognition of the vital importance of the mother–infant relationship long predated mid–twentieth– century discoveries about attachment and loss, and her analyses of small children led to fundamental discoveries about the inner world which still inform contemporary psychoanalytic work. Sherwin-White uses both Klein's published work and previously unseen archival material, drawing also on the seminal work of Claudia Frank, in what will be a valuable contribution to Klein scholarship.'
—Jane Milton, Honorary Archivist, Melanie Klein Trust
About the Author(s)
Susan Sherwin-White, who died in 2016, enjoyed two careers, the first as an academic ancient (Hellenistic) historian with many publications, including (with A. Kuhrt) From Samarkand to Sardis: A New Approach to the Seleucid Empire (London: Duckworth, 1993). She then trained as a child and adolescent psychotherapist at the Tavistock Clinic from the mid-1980s. She was until her recent retirement from the NHS a Consultant Child and Adolescent Psychotherapist and Child Psychotherapy Lead at Hammersmith and Fulham CAMHS in the West London NHS Mental Health Trust. She was at various times Chair of the Association of Child Psychotherapists and its Chair of Ethics. She taught on Freud for many years at the Tavistock Clinic for the Observational Studies course. She published a number of clinical papers on child and adolescent issues. Most recently she co-edited with Debbie Hindle, Sibling Matters: A Psychoanalytic, Developmental and Systemic Approach (Tavistock Clinic Series, Karnac, 2014) to which she contributed chapters on Freud and Klein.
You may also like