Psychoanalysis of Aging and Maturity: The Concept of Maturescence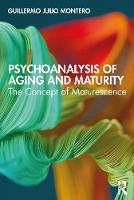 Book Details
Publisher : Routledge
Published : October 2020
Cover : Paperback
Pages : 144
Category :
Psychoanalysis
Catalogue No : 95317
ISBN 13 : 9780367218393
ISBN 10 : 0367218399
As developing countries increasingly confront the issues of an aging population, this important book identifies the key period in the life cycle in which changes to the body, as well as concomitant psychological developments, result in the entering of a new phase of life, maturescence. The author defines the metapsychology of maturescence from a psychoanalytic standpoint, detaching it from the concepts of midlife and middle age. Supported by clinical examples, the book defines the stimuli which are the precursors to this phase, before examining the complete set of psychological challenges it entails. The author also highlights how maturescence has been illustrated in key literary figures in the 20th century and draws parallels with the mythical cycle of the hero. This fascinating and original book will be essential reading for psychoanalysts, psychotherapists and any professional working with issues around aging.
Reviews and Endorsements
"In Psychoanalysis of Aging and Maturity: The Concept of Maturescence, Guillermo Julio Montero offers psychoanalysis-its theory, its practitioners and its patients-a thorough and inspiring approach to the creative middle age period in the human life cycle. Through theoretical, literary and clinical considerations, he shows how the drive increase characteristic of men and women climacterics-equivalent to the one of puberty-infuses the experience of aging. The concept of maturescence repairs a constricted focus on 'midlife crisis' and opens our thinking to the potential for growth that the somatic and psychological transitions of middle age present." - Harriet L. Wolfe, MD, President-Elect, International Psychoanalytical Association.

"In this very interesting book, Guillermo Julio Montero introduces the concept of maturescence, which has its roots in the Freudian idea of a universal both for women and men when they reach their 50s. From a metapsychological perspective, this universal coincides with the demand of psychic work and working through stemming from drive increase that occurs during this period of life. The way in which this psychic work is set in motion and its outcome depends on many factors, always unpredictable and singular. The author also distinguishes midlife crisis from midlife transition, both of which trigger the aging process. This book is an important contribution to the field of psychoanalysis as it shreds light into the internal processes characteristic of a period of life that has been previously studied differently." Virginia Ungar, MD, President, International Psychoanalytical Association.
About the Author(s)
Guillermo Julio Montero is a member of the International Psychoanalytical Association, President of Fundacion Travesia (Psychoanalysis for Midlife Transition and Crisis), Chair of the IPA Psychoanalytic Perspectives of Aging Committee, as well as the author of several books and frequent deliverer at international psychoanalytical congresses.
You may also like