Exploring the Emotional Life of the Mind: A Psychodynamic Theory of Emotions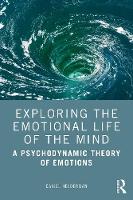 Book Details
Publisher : Routledge
Published : October 2020
Cover : Paperback
Pages : 160
Category :
Individual Psychotherapy
Category 2 :
Psychoanalysis
Catalogue No : 95355
ISBN 13 : 9780367191665
ISBN 10 : 9780367191
This highly innovative new book reconsiders the structure of basic emotions, the self and the mind. It clinically covers mental disorders, therapeutic interventions, defense mechanisms, consciousness and personality and results in a comprehensive discussion of human responses to the environmental crisis.
For openers, a novel psychodynamic model of happiness, sadness, fear and anger is presented that captures their object relational features. It offers a look through the eyes of these specific emotions and delineates how they influence the interaction with other persons. As regulation of the emotional state is the core task of the self, dysregulation can lead to mental disorders. Clinical cases of post-traumatic stress disorder, obsessive compulsive disorder and depression are discussed, using the model to outline the emotional turbulence underneath. Finally, the elaborated theory is used to analyse personal responses to the environmental crisis and political strategies that capitalise on them.
This book will appeal to scholars, psychotherapists and psychiatrists with an interest in emotions and who wish to challenge their own implicit theory of emotion with an explicit new model. It will also be of interest for academic researchers and professionals in fields where emotional processes play a pivotal role.
Reviews and Endorsements
"We work above all with feelings, so it is remarkable how undeveloped Freud's theory of emotion was. This book integrates everything we have learnt in the intervening century, in a new theory that clinicians will find immediately useful and practical." - Mark Solms, Research Chair of the IPA.

"Living near a river, my parents told me to keep away from the maelstrom. I, however, invite you to dive into Daniel Helderman's Maelstrom model of basic emotions. He stirs up familiar psychodynamic concepts and connects them with contemporary insights into personality, mind, and consciousness. This book is a stimulating read and might challenge you to reconsider your way of working with emotions and the self." - Dr. Frans Schalkwijk, psychoanalyst and professor (of special education) at the University of Amsterdam, the Netherlands.
About the Author(s)
Daniel Helderman has a background in therapeutic work as a clinical psychologist, psychotherapist and psychoanalyst. He teaches psychoanalytic theory at RINO Utrecht and RINO Amsterdam as well as supervising healthcare psychologists in the Royal Netherlands Army and speaking professionally on emotion-related issues. His ambition is to use psychodynamic insight to amplify environmental awareness and (inter)action.
You may also like