Psychoanalysis and Film

Also by Glen O. Gabbard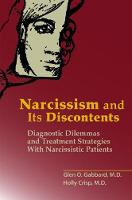 In full acknowledgment of the important cultural significance of film, this outstanding collection of psychoanalytic essays brings a methodological and theoretical sophistication to an absorbing range of film material. From Wild Strawberries and Vertigo to Titanic and Being John Malkovich, this intelligent and enjoyable collection succeedes in combining clarity and accessibility with a deeply informed scholarship.
Reviews and Endorsements
'The connections between film and psychoanalysis exist at many levels of the imagination and mind as well as image and are. Even without knowing it, film and psychoanalysis are allies in the exploration of how to see the human being. Here is a book that takes us into these connections - a journey into both mysteries and light. It is as compelling as it is important.'
- Hugh Brody, Film Director, Anthropologist, Author.

'This exciting gathering of psychoanalytic studies of film represents a major breakthrough in applied psychoanalysis. a group of leading international psychoanalysts explore film as a dominant expression of contemporary culture, its reflection of both universal myths and contemporary anxiety. As Glen Gabbard rightly proposes, film serves as the cultural function that classical theatre played in ancient Greece. The psychoanalytic exploration in this volume opens original views on the artistic expression of the anxieties and conflicts that affect not only our patients but all of us.'
- Otto Kernberg, Training and Supervising Analyst, Columbia University for Psychoanalytic Training and Research.
About the Editor(s)
Glen O. Gabbard MD is Brown Foundation Chair of Psychoanalysis, Professor in the Department of Psychiatry and Behavioral Sciences, and Director of the Baylor Psychiatry Clinic at Baylor College of Medecine in Houston, Texas. He is also Training and Supervising Analyst at the Houston-Galveston Psychoanalytic Institute in Houston. He is further a Joint Editor-In-Chief of the International Journal of Psychoanalysis between 2001 and 2007.
You may also like