Practical Counselling Skills: An Integrative Approach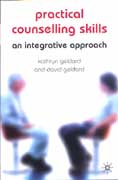 Book Details
Publisher : Palgrave
Published : January 2005
Cover : Paperback
Category :
Counselling
Catalogue No : 21738
ISBN 13 : 9781403945136
ISBN 10 : 1403945136
Also by David Geldard
Also by Kathryn Geldard

Our Customers Average Rating
Read all reviews (1)





This book is a comprehensive, easy-to-read introduction to personal counselling, written for student counsellors and new counsellors, and those who train/supervise them. The book contains many practical examples of the use of counselling micro-skills, includes client statements for use by trainers in teaching particular skills, explores the processes of change, and describes an integrative counselling process which enables counsellors to make informed choices about which skills to use at particular stages of the counselling process. Each chapter has a learning summary and a list of suggested further reading including reference to relevant research. Each of the skills chapters includes demonstration examples of suitable client statements and counsellor responses, followed by practice examples and student assignment examples.
Reviews and Endorsements
Contents: PART ONE: COUNSELLING; AN OVERVIEW; What is Counselling?; The Counselling Relationship; PART TWO: BASIC PRINCIPLES AND SKILLS; Learning the Necessary Skills; Joining and Listening; Paraphrasing of Content; Reflection of Feelings; Paraphrasing Content and Reflection of Feeling; Use and Abuse of Questions; Summarising; Creating Comfortable Closure; PART THREE: PROMOTING CHANGE THROUGH THE USE OF AN INTEGRATIVE APPROACH; An Integrative Approach to Helping People Change; Combining Skills to Facilitate the Change Process; PART FOUR: ADDITIONAL SKILLS FOR PROMOTING CHANGE; Confrontation; Normalising; Reframing; Challenging Self-Destructive Beliefs; Exploring Polarities; Enabling the Client to Make Use of their Strengths; Using the 'Here and Now' Experience; Exploring Options; Facilitating Action; PART FIVE: PRACTICAL, PROFESSIONAL AND ETHICAL ISSUES; The Counselling Environment; Keeping Records of Counselling Sessions; Cultural Issues; Influence of the Counsellor's Values and Beliefs; Confidentiality and Other Ethical Issues; The Need for Supervision; Looking After Yourself; PART SIX: PRACTICAL EXAMPLES FOR STUDENTS; REFERENCES

Author Biographies:
KATHRYN AND DAVID GELDARD work together in their private practice as counsellors, and as trainers and supervisors of other counsellors. Kathryn is a child and family therapist and occupational therapist. David is a psychologist. Together they have co-authored the books
'Counselling Skills in Everyday Life', 'Working with Children in Groups', 'Counselling Children', and 'Counselling Adolescents'.

Customer Reviews
Our customers have given this title an average rating of 5 out of 5 from 1 review(s), add your own review for this title.
stikkki on 20/11/2007





(5 out of 5)
Excellent book, a must for students, teaches how to apply the skills learned from studies in simplified jargon busted text. easy to read and straight forward giving a better understand of how to approach being a counsellor
You may also like